RAINBOW Rising 2-CD Universal (2011)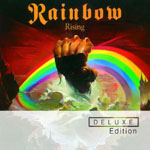 Rainbow's second album, Rising, is widely seen as one of Rock's finest moments and guitarist Ritchie Blackmore at his peak.
While the debut had been recorded while still in Deep Purple, as an excuse to cover Quatermass's 'Black Sheep Of The Family', the band had effectively been Blackmore and Elf.
Now fully separated from Purple and retaining vocalist Ronnie James Dio, here Blackmore effectively built himself a band with more power, passion and talent than most can only dream of. Rainbow Rising was to also comprise bassist Jimmy Bain, keyboard player Tony Carey and drummer Cozy Powell.
Going into the studio in Munich, the band were pretty much fluid and fluent with much of the material, and with the attitude of 'Let's go for this, if we get it right we stick with it as it is' (something Cozy Powell told me years later, who else on earth could get away talking to Blackmore like that?), much of the album was laid down close to first take.
The album kicks off with the legendary 'Tarot Woman', a classic and long keyboard intro before everything comes in, and you get a solid, heavy catchy track that features 5 hard rock legends at their best. If you need proof that only way to get the best out of Blackmore is either with an outrageously overt exhibitionist of a keyboard player, a metronomic powerhouse of a drummer with attitude or one of the best voices in rock/metal, here is the proof. On this album he has all three and it really will blow you away.
'Run With The Wolf' is a sturdier heavy number with more emphasis on the riff, and less keyboards. Likewise 'Do You Close Your Eyes', where the keyboards are intricate and so low in the mix they're almost hidden. But after the opener the highlight of side one is 'Starstruck' which has a catchy rhythm, guitar solo, full of crash bank wallop and has a good range from Dio.
Side two kicks off with the epic 'Stargazer', an 8 minute track featuring the Munich Philharmonic Orchestra. If you don't know this track, go get this CD, go get some education. That simple. One of Dio's finest moments. Ever.
Album closer and for me an underrated classic, 'A Light In The Black'; this features musicianship and less input from Dio, but 8 minutes of some of the most solid tight and intense drumming you will ever hear. Not only is it a well crafted song but if also features a highlight for both Blackmore and Carey in an extended solo in the middle of the song. The extended guitar and keyboard solo interplay here is mindblowing, heavy and blistering. As guitar/keyboard work goes, this exceeds anything Blackmore managed in Deep Purple.
Now on to the extras. It's hard to be exact as I was given a download and no full tracklisting, but it appears to feature the remastered original LP version, a later master and some rough mixes.
Many of these will have circulated as bootlegs before but are good here all collated. The alternate masters are interesting; many vary by a few seconds in length and feature the keyboards up or down in the mix, and on 'Tarot Woman' the keyboard intro in longer, with the band coming in considerably later.
The rough mixes are often quite different though; 'A Light In The Black' has an extra drum roll on the intro, 'Stargazer' has a 1 minute keyboard intro, and the keyboards on 'Run With The Wolf' are more noticeable. The rough mixes are more bass heavy and drier and are, well, rough.
And while much of the main recordings were done live, 1st take, there is the odd overdub which is more or less noticeable on some of these alternate version.
In addition, the bonus disc features a live tour rehearsal of 'Stargazer'.
Don't go expecting lots of alternate takes and demo versions, because they just don't exist. These alternate mixes are interesting and enjoyable, but some more live tracks or tour rehearsals would have bolstered the album well.
*****
Review by Joe Geesin
Album review (Down To Earth)
---
| | |
| --- | --- |
| | Print this page in printer-friendly format |
| | Tell a friend about this page |