QUEEN Reissues Island (2011)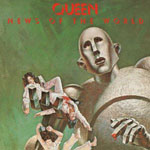 These latest set of re-issues covers the years 1977 through to 1982, although they omit the classic live double album 'Live Killers' which I assume will be released sometime later in the year.
This period also saw Queen rack up some massive hit singles including 'We Will Rock You', 'We Are The Champions', 'Under Pressure' and 'Another One Bites The Dust' to name but a few. This period also saw the band first use synths (on 1980's 'The Game') and release an album, 'Hot Space' that still divides fans to this day.
There are bonus songs, mainly live or single versions of album tracks, as Queen never seemed to be a band to have many songs left over from recording sessions, bar early versions of songs that later made an album.
News Of The World came out just as punk was making its presence felt in the UK but musical fads have come and gone yet Queen's music still lives on. The band even does their own bit of punk on the frantic 'Sheer Heart Attack'. This album of course included two of the biggest Queen anthems of all time, namely 'We Will Rock You' and 'We Are The Champions', along with 'Spread Your Wings', a firm live favourite.
The album also includes 'My Melancholy Blues' featuring a suitably bluesy solo from Brian May. Queen have never been afraid to try any musical genre and do a little jazz shuffle on 'Sleeping On The Sidewalk'. For the heavier end of things the slow building 'It's Late' is perfect for whipping out your air guitar too. Bonus wise we have 'Feelings Feelings', a brief heavy song that has not been officially released before.
Two BBC sessions, 'Spread Your Wings' and 'My Melancholy Blues' and live versions of 'Sheer Heart Attack' and the fast version of 'We Will Rock You', a great version of this song. ****½
Jazz has more hit singles - 'Bicycle Race', 'Fat Bottomed Girls', 'Don't Stop Me Now' - but it is the varied album tracks that offer a further glimpse into the Queen canon. 'Mustapha' tips a nod to Freddie Mercury's roots driven along by a pumping John Deacon bass riff. 'Jealousy' is one of those wonderful piano led Freddie numbers, whilst 'Leaving Home Ain't Easy' is one of those classic Brain May mid tempo numbers.
'Fun It' is not one of Roger Taylor's best numbers although he redeems himself on 'More Of That Jazz' which cleverly mixes in snippets of the songs that have gone before on the album. Three bonus songs, a live version of 'Let Me Entertain You' from 1981, the single version of 'Fat Bottomed Girls' and an early acoustic take of 'Dreamers Ball'. The latter gives a fascinating insight to the band's recording process.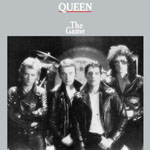 1980's The Game is my all-time favourite Queen album, not a duff song in sight. The first album where the band used synths, right from the off on opener 'Play The Game'.
The album has two cracking rock 'n' roll infused numbers in the hit single 'Crazy Little Thing Called Love' and 'Rock It (Prime Jive)'. Brian May puts in an emotional vocal on 'Sail Away Sweet Sister (To The Sister I Never Had)', whilst 'Coming Soon' is a fun song that could have been a single.
Freddie's moment comes on 'Save Me', one of those pomp filled moments Queen do like no other band can. 'Dragon Attack' gives Roger Taylor a chance to do a drum workout (there is a live version as well from Milton Keynes Bowl in 1982 but it's not a patch on the album version).
Five bonus songs on here, the aforementioned live version of 'Dragon Attack', a live 'Save Me' from 1981 and the B-side 'A Human Body', not one of the band's finer moments it has to be said. The backing track rehearsal of 'Sail Away Sweet Sister' again gives more insight to the band's recording process. The original recording of 'It's A Beautiful Day' is also on here, later to be released on the band's final album with Freddie Mercury the posthumous 'Made In Heaven'. *****
Flash Gordon was the soundtrack from the 1980 film, a real camp send-up where Brian Blessed steals the show as the leader of the hawkmen.
It's a disjointed listen as it features clips from the film where Queen's music featured, including 'The Ring' which if you heard without knowing where it came from sounds like a soft porn soundtrack. 'Flash's Theme' was the hit single of here and 'Battle' and 'The Hero' (the only other track to feature vocals) are highlights. Only three bonus songs, the single version of 'Flash', a live version of 'Flash' from Montreal in 1981 and a live version of 'The Hero' from the same concert. An album for avid Queen fans only. ***
Hot Space actually sounds better with hindsight as I was not a fan at all when I first bought this on vinyl way back in 1982. Mind you it still has for me the worst Queen song ever in 'Cool Cat' and 'Calling All Girls' was never up to much either.
The band went all funk on this album with only three hit singles of note, 'Body Language', 'Under Pressure' and the wonderful 'Las Palabras De Amor (The Words Of Love)', which deserved to be a bigger hit than it was. Brian May didn't have a lot of soloing to do on this album but he did let fly on 'Put Out The Fire'.
'Staying Power' is a decent funk rock tune and 'Dancer' mixed the band's pomp tendencies with a funky beat, along with some nighty guitar solos. Five bonus songs, three live songs - 'Staying Power', 'Back Chat' and 'Action This Day', plus the single version of 'Back Chat'. The B-side 'Soul Brother' has Freddie going a little bit soul/gospel and mixing a few lyrics from other Queen songs. Worth it just to hear Freddie's vocal histrionics.
This album nearly spelt the end for Queen and it would take a certain Bob Geldof and Live Aid to reinvigorate the band for 1984's 'The Works' which will be in the next set of re-issues. ***½
In many ways I envy those people yet to hear these albums in full for the first time as they have so much to look forward to and they can be rest assured the songs sound just as good some thirty years after they were first released.
Review by Jason Ritchie
---
| | |
| --- | --- |
| | Print this page in printer-friendly format |
| | |