Just witnessed your best live gig?.. send us a review!
PP ARNOLD, Bush Hall, Shepherds Bush, London
20 May 2011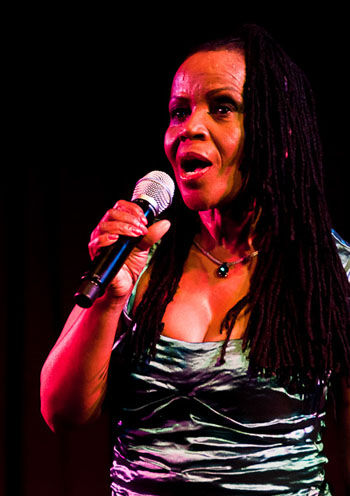 Now some of you may be wondering why the first lady of soul is doing here on the pages of a rock website but the roots of PP Arnold branch out into the very heart of rock high society.
In her career she has performed and toured along with the likes of Ike & Tina Turner, Rolling Stones, The Nice, Small Faces, Jimi Hendrix, Roger Waters and Oasis to name just a few.
PP Arnold has led a very colourful life of exceptional highs and lows and it is those human emotions that she has lived through that make the remarkable lady that she is today.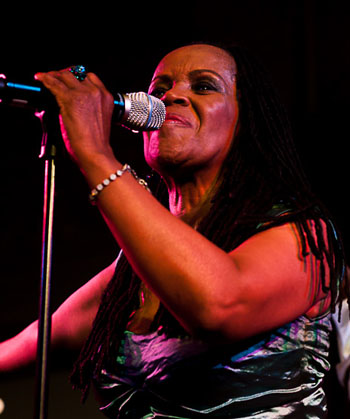 With a career spanning five decades Miss Arnold still looks dazzling in her evening dress and high heels and with a youthful energy that keeps her complexion looking so young.
This is by no means a one woman show, Arnold has got herself one hot backing band including some of the best session musicians around, including guitarist Tony Remy and bassist Henry Thomas who some of you may remember from the BBC2 musical learning programme Rock School back in the mid eighties.
Full credit must also go to keyboardist Alex Bennett who stood in at the last minute as her normal joanna player Anders Olinder was away busy touring with Glenn Hughes.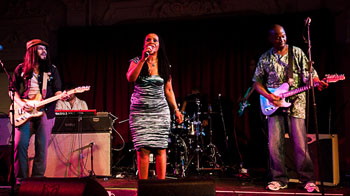 The set opened up with the band themselves doing a great instrumental blues work out before introducing the angel of the evening. 'If You Think You're Groovy' got the hips swaying, a song penned for her from those tin soldiers Steve Marriot and Ronnie Laine.
What followed was a delightful evening featuring songs from her whole career and including some fine more recent collaborations.
'Angel Of The Morning' was surprisingly early in the set, a song that you would instantly recognise not realizing that it was originally done by PP Arnold but you would've heard countless times on the radio over the years. Amazing when you look back at the history books to find out this song only just broke into the Top 30 when first released back in 1968.
The more recent 'I Saw Something' a duet she originally did with Dr Robert of the Blow Monkeys was a nice little lounge number sung by herself tonight. Arnold then pours her heart out on 'Though It Hurts Me Badly' a self-penned tune about her relationship with Mick Jagger.
Lifting the party with her time as an Ikette with an up tempo 'River Deep Mountain High' and ending the first half of the set with a Small Faces number she originally sang backing vocals on with 'Understanding', a track that she re-visited in later years with Primal Scream.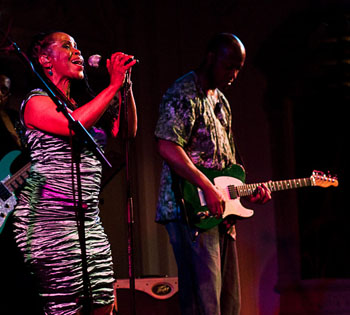 Returning in the second half with the moody 'Moody's' was followed by my favourite song of the night 'Break The Chains' a song written for her by Chip Taylor, Arnold really sings her heart out on this autobiographical song.
A diverse cover of the Beatles 'Eleanor Rigby' was tonight done in a jazz funk fashion, another hit for out lady in the sixties.
PP Arnold was also spending time talking to the crowd making everyone feel as she is their best friend happily sharing her thoughts of her ''In's and out's and "in betweens'' and the band was on fine form all night, in the words of Arnold herself ''The band have rocked, popped, souled and grooved''.
The best was yet to come in the finale with 'First Cut Is The Deepest' a song given to her written by Cat Stevens. PP Arnold had a massive hit with this before a certain Rodney Stewart.
Tonight this song will be forever remembered when she invited some friends from the audience to help her out on the chorus, and what helping hands they are when they are some of the finest soprano voices in the country namely singers Pearly Gates, Jimmy Thomas, Katie Kissoon, Simon Bell and also Maury Richards and Mark Black.
This song took on a gospel feel and never wanted to end, a truly magical moment that I will cherish. The last cut was the deepest, priceless.
An enlightening evening spent with a delightful, endearing artist.

Set list : If You Think You're Groovy / Everything Is You / Angel Of The Morning / I Saw Something / Though It Hurts Me Badly / River Deep Mountain High / Understanding / Moody's / Break These Chains / Eleanor Rigby / Speak To Me / Can You Feel It / Am I Still Dreaming / Everything's Gonna Be Alright / First Cut Is The Deepest


Review by Mark Taylor
Photos by Martin Pickles
---