POOR GENETIC MATERIAL Island Noises (2011)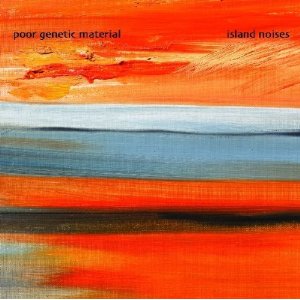 Weeeeeoooooo! Weeeeeoooooo! Concept album alert. Concept album alert.
Hang on, don't run away, this is rather good.
Poor Genetic Material was founded by Stefan Glomb and Philipp Jaehne as an experimental project mainly working on soundtrack material until they met German rock band Alias Eye, which gave them an opportunity to develop more song-oriented material with their vocalist Philip Griffiths (son of Beggar's Opera singer Martin Griffiths).
Island Noises is a (gulp) double CD concept album based on The Tempest by William Shakespeare. Now I have to admit to not being a great fan of Shakespeare, but I have to admit that PGM's interpretation of this tragedy is something a bit special. I'm also not a great fan of concept albums as their history is littered with the pretentious twaddle of swords, sorcery, goblins and the like.
But this is different. Everywhere there are great vocals, soaring guitar, expressive keyboards and even a little flute thrown in to ice the cake. The mood swings from roaring rock to melancholia in the blink of an eye and the inclusion of spoken quotations as the work progresses, rather like Jeff Wayne's 'War Of The Worlds', maintains the Shakespeare lineage, whilst affording a breather to the listener during what is a very intense work.
It's very difficult to make comparisons with other bands as to who their influences are as they are very much their own men, but any fans of the prog-rock genre will immediately 'get' where they're coming from.
Great stuff.
****
Review by Alan Jones
Alan sequences "The Eclectic Mix" on the third Sunday of every month on Get Ready to ROCK! Radio, and usually manages to include some prog.
---
| | |
| --- | --- |
| | Print this page in printer-friendly format |
| | |