THE PIGEON DETECTIVES Up Guards And At 'Em (2011)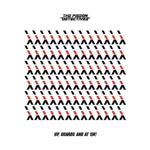 After hearing the first single from 'Up Guards And At 'Em' which was 'Done In Secret', I have to say there are some pretty high hopes for The Pigeon Detectives third album so finally being able to hit the play button seems like a reasonably significant ordeal for me. Will it really live up to the degree of the other two records? Time to find out!
Listening to the introductory beat of 'She Wants Me' shows something's a little out of place. As the track progresses it seems there is a slight lack of energy compared to the usual standards of these indie masters.
Don't get me wrong, it's still good but it's definitely deprived of that powerful kick up the rear-end that you usually receive from The Pigeon Detectives. However, there's still hope, this is only the first track guys so don't be too disappointed just yet!
'Lost' significantly makes up for where the previous track fell short as it revives the infectious chorus and catchy, airy guitar riffs that The Pigeon Detectives built their well-deserved fame on. Nice one guys; reputation redeemed!
The third track on the album is 'What Can I Say?' which boasts a marching beat which steadily develops into a crescendo of distorted guitar and powerful vocal work from frontman, Matt Bowman, only to die back down and bring you back to earth towards the end. Overall, it's a damn effective tune from the lads.
'Need To Know This' brings a cheerful note to the album which is then followed by the previously released single, 'Done In Secret' with it's rather fetching guitar riff.
Track six is 'What You Gonna Do?' and provides everything you could ever want from a Pigeon Detectives song and in my opinion is one of the strongest on the album so far.
'Turn Out The Lights' slows things down a bit only to be followed by 'Through The Door' and penultimate track 'Go At It Completely' which bring back their signature sound with an intense punch and full exertion from the Yorkshire five-piece.
The final track on this stunning album is 'I Don't Know You' which boasts a number of tempo changes that kind of make it seem a little odd, even for The Pigeon Detectives! One minute you're in a relaxed dream world and then the next you're plunged into a rush of distorted instrumentals and forceful vocals. At any rate, they conclude the album somewhat experimentally.
All in all, there's only one way to sum it up: The Pigeon Detectives have done it again!
*****
Review by Abigail Suter
---
| | |
| --- | --- |
| | Print this page in printer-friendly format |
| | |