PHI YAAN-ZEK with Marcus Minnermann Dance With The Anima Age of Wonder AOWCD001 (2011)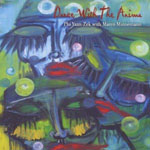 Phi Yaan-Zek with Marco Minnermann 'Dance With The Anima' Age of Wonder AOWCD001
It's a safe bet that Brit virtuoso Prog Rock /Fusion guitarist Phi Yaan-Zek constantly has to set himself new challenges. And technically and conceptually they don't come much bigger than 'Dance With The Anima'.
As Phi explains, 'The challenge was to write write 51 minutes music over Marco Minnemann's live improvised non stop drums, not edited in any way.'
'Dance With The Anima' is 22 linked pieces that weave themselves in and out of Marco's non stop drum solo and on balance its a successful dalliance with the unconscious ('Anima'). In effect the shape shifting, mood changing, dramatically explored musical landscape has the feel of a film sound track. The result is a mix of stop-start, tension building moments punctuated by feverish solos and linked pieces full of vibes, keyboard and choral inputs, all topped Phi's restless guitar playing that shadows drummer Marco across all 22 tracks of incessant creativity.
'Anima' grabs your attention and never lets go. The ghost of Frank Zappa may be ever present, particularly on the percussive pieces and Lalle Larsson's keyboard work, but Phi's guitar work stretches in an arc from Zappa to Satriani, Gilbert and even McLaughlin, in a creative cloudburst.
The busy drum pattern, staccato rhythms, angular guitar, rolling piano and percussive punctuation of the opening 'Adventures in Myth' sets the standard and leads to a film soundtrack style opening. The following 'Ecstasies of The Starlight Self' turns out to be a steal of Zappa's 'G Spot Tornado' and is no less enjoyable for that.
Then there's the Nelson Riddle widescreen feel of 'Inamoratas In Peril - Part One' with its keyboard generated vocal collage, bombastic synth motif, jazzy piano and frantic drums. As always Marco is the unlikely conduit between the brooding tension of the piece and its sonorous guitar led resolution, while Gary Compton's wailing harp and Phi's crunching metal guitar chords on 'Dirt Under The Fingernails' acts as one of several effective link pieces.
The subsequent 'Twisted to the 7th Degree' is again pure Zappa. The stop-start rhythms, doubled up vibes and guitar and incredible ending sounds like a brief transcription, when in fact the whole is a triumph of the spontaneous over the planned.
'Four Daughters of Phrygia' sees Marco in Billy Cobham mode, with busy press rolls and crisp cymbal work as part of a delightful rhythm track topped by megaphone style voice collage and contrastingly sonorous guitar lines. There is actually a monetary pause before the band heads towards an incredible frenzied conclusion.
As with any suite of music 'Dance With The Anima' has the feel of a bigger picture at play, despite the sitar sounding diversionary noodle of 'Inner Constellation of Feeling' and the trumpet and guitar led chamber rock of Melodies of Me Too', with its guitar and vibes conclusion.
There's a feeling of welcome restraint on 'Mariana's Guide to the Deep' and the muted trumpet and jazzy cool of the brief but delightful 'Signposts', while the title track comprises Metal guitar, frantic synth stabs and vibes as the band jam out on a riff . Marco then adds a crescendo to usher in celestial vocals, and a frantic big screen style, synth led outro.
But there's more, as electronic nightmarish voices populate 'Synchro - Gnostic Mirrorball Gyrations' before Phi adds some Metal fusion shredding on 'Melodies Of Me Too'. 'Dance With The Anima' never fails to surprise, as on the Latino tinged, trumpet led, acoustic guitar groove of the humorously titled 'Maid With Spanish Fly', and the breathtaking guitar and electric piano and drum workout on 'Precipices'
By contrast, 'Flirting With Intensity' is more about restraint, time and space. The tic-toc rhythm track and funky guitar groove is punctuated by reprised nightmarish primal screams and piercing legato runs, neatly offset by a drifting piano and acoustic guitar lines.
Finally 'A Healing of Shattered Hearts' brings the musical journey to rest in a featherbed of piano and delicate guitar notes, with the gentlest drum roll to top a successful meeting of virtuoso playing and musical creativity. Adventurous rock fans should seek this album out, you won't be disappointed.
****
Review by Pete Feenstra
---
| | |
| --- | --- |
| | Print this page in printer-friendly format |
| | |