Just witnessed your best live gig?.. send us a review!
PETER FRAMPTON
Shepherd's Bush Empire, London 5 March 2011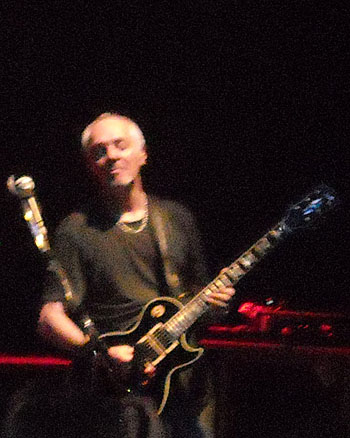 Sadly, Peter Frampton 'comes alive' all too rarely in his UK homeland, this being by my reckoning his first tour since 2004. However he made up for lost time with a marathon 2 and ¾ hour set.

These days the curly locks made famous by the iconic album sleeve are long gone and, balding and grey, he looks more like Iain Duncan Smith.
Indeed at the start, as he opened with a rather sedate instrumental Off the Hook, It's a Plain Shame and Signed Sealed Delivered I'm Yours, it seemed the self-styled Quiet Man of British politics was also manning the sound desk, but luckily the music did get louder and, surprisingly early in the set, his biggest hit Show Me the Way, complete with trademark talkbox, and a slightly different arrangement, got a few people singing along.

Despite all his years based in the USA, he is very much the English gentleman, and I always enjoy his self-deprecating wit between songs.
Introducing material from the new album Thank You Mr Churchill, he joked that he was nervous releasing it as the Grammy for his previous instrumental album Fingerprints may have been awarded for him not singing.
Both albums got a generous airing, but I felt he failed to do the new one justice by mainly playing the slower, more downbeat tracks from it.
One of them, though, the autobiographical Vaudeville Nana and the Banjolele, saw him tease the crowd in typical fashion by opening with a snatch of My Old Man's a Dustman.

Actually, his singing is more than serviceable and its rather lived in, weary feel grows with age, but as usual it was his guitar work that stood out, fluent, controlled and as easy on the ear as always and matched by an excellent new band including second guitarist Adam Lester and keyboard player and occasional guitarist Rob Arthur. I say new, but the line up also boasted Stanley Sheldon, the bassist from the Comes Alive recordings.

The set did drag at times during the first hour and a half, until the likes of I Wanna Go To The Sun and the Humble Pie oldie Shine On, and newie Asleep at the Wheel raised the tempo a few notches.
One of the highlights was a superb instrumental treatment of Soundgarden's Black Hole Sun, although when he sang 'Black Hole Sun' into the talkbox I could not hold back the thought I was hearing Professor Stephen W. Hawking.

Baby I Love Your Way had ladies of a certain age singing and dancing, l'll Give You Money in contrast turned into a brilliant jam with guitar and keyboard battling against each other, and of course nothing other than Do You Feel Like We Do ended the set, drawn out with Peter messing about with his talkbox, and clocking in at a 'mere' 17 minutes.

He rocked out for the first encore with Humble Pie's I Don't Need No Doctor, only for momentum to be lost when the song was stretched out to excess, but a second encore of While My Guitar Gently Weeps showed off his immaculate guitar technique to perfection.

In 25 plus years of gig going I can only recall a few acts (Rory Gallagher, Brice Springsteen and Bon Jovi) playing a set of such a marathon length.
Full marks to the sexagenarian for giving such value and the good news is that this underrated master of his craft is coming back later in 2011 to celebrate the 35th anniversary of Frampton Comes Alive.


Review by Andy Nathan
---