PETE YORN Pete Yorn Because Music (2011)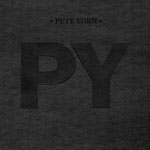 We rather liked American singer songwriter Pete Yorn's last outing - Break Up, a project featuring Scarlett Johansson. And while Johansson played very much second fiddle to Yorn, it was nevertheless a pretty decent album in the style of, say Cherry Ghost.
And as demonstrated by his brief dalliance with Johansson, Yorn isn't an artist who likes to play by the rules of the game. Or to be pigeon holed.
This eponymous album will be his third release inside eighteen months, and in fact, was very much a spur of the moment project. In the middle of recording Back & Fourth in Nebraska in 2008, he received an email from Frank Black (Pixies) suggesting they get together. Intrigued, Yorn downed tools, jumped a plane and after five days of experimentation in an impromptu studio this album was in the bag.
And typical of both Yorn and Black, it's a stripped back, raw affair that oozes 'feel'. At times reminiscent vocally of Tom Petty, Neil Young and Joseph Arthur, the thing that strikes you is that the minimalist approach - effects, no ProTools -works to perfect effect.
It allows the songs to take centre stage, and adds a degree of 'authenticity' that is missing from most modern albums that are 'produced' to within an inch of their running length. You get the impression the formula here was 'write it, run through it a couple of times, record it in one take, and move on'.
The result is a set that harks backs to the golden days of Crosby Still, Nash and Young, and The Velvet Underground. At times discordant, but a hook is never more than a few second away. Well worth exploring.
****
Review by Pete Whalley
---
| | |
| --- | --- |
| | Print this page in printer-friendly format |
| | |