PAVLOV'S DOG Live And Unleashed (2011)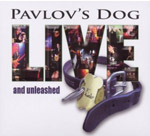 Pavlov's Dog follows this year's new studio album 'Echo and Boo' with a live set actually recorded back in 2009.
And while 'Echo and Boo' was an excellent comeback and a restatement of the band's core values in a contemporary setting, 'Live and Unleashed' is a far reaching affair dipping into the band's history and offering a brace of songs from David's fine solo album, 'Dancing On The Edge Of A Tea Cup'. The band is also a much heavier proposition live, a startling shift given many people's memory of Surkamp's falsetto led ethereal pieces.
Sixteen tracks have been culled from a set that apparently lasted a punishing two and half hours. They begin at the beginning with the early career bombast of 'Preludin' a violin led instrumental with tough Martin Barre/Jethro Tull sounding guitar lines and quickly segue into 'Of Once And Future Kings' with some curious enunciated rapped out lyrics, both from 'Pampered Menial' album.
And while the band work their way through a big rock arrangement in search of real intensity and deliver big finale on 'Kings', they also go hell for leather on a full blown rocker 'Breaking Ice'. The song comes form the lesser known 'Lost In America' album and is dedicated to their late violinist Sigfried Carver. Abbie Hainz Steiling does a great job of replacing him, and David's wife Sarah Surkamp adds a welcome extra vocal outlet that pushes some of the material in the direction of Jefferson Starship.
A twin guitar/synth opening gives way to a passionate rough hewn vocal from David who pours himself into the song. Just before the end he shouts to the band, 'come on let's go'. Its an exhaltation to give just a bit more in a classic musical moment worthy of the band's enduring name. He then asks the crowd 'is that fun or what?' Yes it certainly is, and it's the Dog at their best.
Other highlight include 'I Don't Need Magic Anymore' from the current 'Echo & Boo' album, with its floydian echoes, David's extended vibrato and mighty guitar parts from Bill Franco. Then there the ressurected 'Theme from Subway Sue' from the band's classic 'Pampered' album. David may not have the angelic voice anymore but he still has an ability to startle in terms of his commitment, as the band burns and sparkles with real intent. There can be few performers of the era - other than say Roger Chapman - who scan match Surkamp's inner fire. The wailing guitar/ and violin interplay is stunning and the booming arrangement is classic rock at its best.
For the most part Pavlov's Dog emphasise an AOR rock tendency with proggy embellishments in the bursting solos and changing time signatures. And while David is still routed in folk rock the two songs from his solo 'Standing On The Edge Of A Tea Cup' album suggest he's still got loads more to contribute. 'Looking For My Shadow' flies on the back of a steely guitar riff and gets a great response from the crowd, while Sarah gets her own showcase on the quite beautiful 'Wrong', with its smoky vocals over guitar harmonics before husband and wife duet on another big arrangement.
Inevitably the band slip into 'Standing Here With You (Megan's Song)' with Surkamp's weathered voice finding the perfect foil in violin and keyboards. David sings from the soul before counting in the almost waltz time of 'Angeline' on one of the best songs on the new album.
It's hard to imagine that after 30 odd years of near silence we're hearing Pavolov's Dog again. You just hope that they havent left it too late because on the evidence of this live album the fire still burns bright and uniquely so.
*****
Review by Pete Feenstra
---
| | |
| --- | --- |
| | Print this page in printer-friendly format |
| | |