PAR LINDH PROJECT Time Mirror (2011)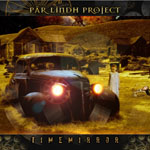 So. Is it possible to be Gothic without being a Goth? Of course it is and here's Par Lindh to prove it.
Par Lindh has been around the prog rock scene for quite a few years now without really setting the world on fire, but this album could be the key to unlocking a wider audience.
Featuring just four tracks, but clocking in at over forty minutes (now that's prog, man), Time Mirror is a wonderfully constructed, eclectic beast of an album that compels the listener to sit down and take notice. Don't go and make tea, don't play with your iPhone - just sit and listen godammit or you'll miss something important.
Basically a keyboard-led trio, but with a nice bit of trumpet here, a smidgeon of violin there and even the occasional celestial choir, the band are heavily influenced by European classical music which particularly manifests itself with the massive sweeps of church organ throughout the album - apparently recorded in buildings such as Uppsala Cathedral and Litsiena Church. It's this that gives the work its over-arching Gothic feel and which sets it apart as a magnum opus that demands attention.
The album begins with the title track, a wonderfully over-the-top seventeen minutes worth of keyboard wizardry reminiscent of Emerson, Lake and Palmer in their pomp, complete with ridiculous lyrics that, strangely enough, are entirely appropriate to the accompaniment.
This is followed up by the almost throwaway 'Waltz Street' a song about the f*cking bankers set to a 'twenties-like tune - presumably to emphasize the similarities with the Wall Street crash. We then roll into perhaps the definitive track on the album 'With Death Unreconciled' a Gothic tour-de-force that I'm sure Bach or Handel would look down on with approval. 'Sky Door' concludes proceedings – a ten minute keyboard extravaganza which, had he chosen keyboards instead of guitar, Joe Satriani would have been proud to put his name to.
Have to say I've never been a massive fan of any rock music that doesn't feature guitars - 'the guitar's the star' has always been a mantra, but I have to say this blew me away - not just with its technical wizardry but with its sheer musicality, a rare but refreshing combination these days.
****
Review by Alan Jones
Alan sequences "The Eclectic Mix" on the second Sunday of every month on Get Ready to ROCK! Radio, and usually manages to include some prog.
---
| | |
| --- | --- |
| | Print this page in printer-friendly format |
| | |