OZ KNOZZ True Believer (2011)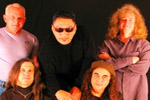 Oz Knozz are nowhere near as strange as their name suggests, though a classic rock band with Prog leanings from Houston Texas is slightly different from the norm.
In fact the band has a rich musical heritage all the way back to 1969 and with the exception of a 9 year period between '87 and '96 and countless line-up changes they managed to keep going.
The present line-up boasts founder members Bill Massey on bass and tenor sax, multi-instrumental Duane Massey on keys and horns, long time drummer/percussionist Marty Naul, lead vocalist/keyboard player Milton De Coronado (who joined in '84, but left in '86) and guitarist Robert Guinea whose band career is traceable back to the mid 80's.
And it's a keen sense of their musical lineage and prog rock history that lies at the core of the band's powerful style.
The title of the album 'True Believer' might easily refer to the band's collective belief in the music they play, that is keyboard and guitar led AOR /Classic rock meets Prog Rock head on, with the emphasis on rich vocals and occasional big hooks. And curiously it's the lack of a hook on the Europe influenced 'Empty Room' that robs the band of a triumphant opening, though there's a powerful dynamic at play.
The following 'Goodbye Again' references 80's Asia with plenty of keyboards and doubled up vocal lines, while 'Far Away' makes a judicious use of a vocal collage on a song that repeats the chorus like a mantra, in a sing-along fashion.
More interesting still, is 'Fox Paws' which veers from a machine gun, drum and prototype Metal guitar opening into a Zappa style funky figure with an unexpected trumpet break. The juxtaposed keyboards and a whammy bar guitar led frenzy resolves itself in an outstanding blistering rock track.
As with several moments on this album there are inspired moments of instrumental interplay that evokes the true meaning of Prog. And in that respect the double harmony lines and guitar and keyboards make the piano led 'Always There' a successful powerful rock ballad.
Aside from the band's intense playing and stellar engineering work by Brian Baker, there's always room for melodic development, as evidenced by 'Here Comes the Night' albeit with a hammy chanted hook. And aside from a few telegraphed guitar breaks and synth lines, much of the material is surprisingly open ended.
In fact there isn't a moment on this album when you truly feel you have the band's measure. Listen for example, to 'What The…' which is a heavy rock/blues groove with a growled vocal and blazing horns and has an early Chicago feel about it, as the band sing 'tell me what you want me to play' Then in the blink of an eye its back to the Asia style title track, albeit with a riff reminiscent of The Who's 'Substitute', before an unlikely Doom Metal vocal over pounding riffs.
The album finishes in bombastic Prog rock fashion on the splendidly titled 'Kings And Treasures' with suitable pompous lyrics. But the music has an epic quality built on the back of pounding drums, a trumpet voluntary and banks of keyboards as part of a climactic finish worthy of a splendidly played album.
'True Believer' is by no means an unblemished consistent album, but there's enough spontaneous musical highs here to interest all self respecting prog and classic rock fans alike.
****
Review by Pete Feenstra
---
| | |
| --- | --- |
| | Print this page in printer-friendly format |
| | |