ORION'S DEPARTURE The Light (2011)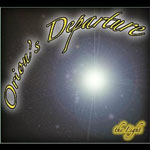 Antagonistic as I am to most American prog rock (they don't get it really do they?) I did not hold out much hope for 'The Light', the debut album from New York's Orion's Departure as I pushed the play button and sharpened my poison pencil.
The pencil remains un-sharpened. This is rather good, and especially so when one discovers the age of this lot. Eighteen. They were only eighteen when they put this together. I can only imagine all their parents had significant collections of prog rock records that these whippersnappers have been listening to and absorbing for a while.
That's not to say that this is some mere tribute to past glories, far from it. Although it wears its influences shamelessly on its sleeve (Pink Floyd, ELP and, curiously, Wishbone Ash), the album is suffused with a modern, contemporary twist that could easily propel them into Muse's significant catchment area.
There's a certain level of naivety here and the vocals could do with a bit of work - this is only to be expected given the ages of the protagonists, but the overriding feeling you get is of a cadre of fine musicians playing the music they love, and displaying a potential that, if realized, could be a bit special.
There are nine tracks here that veer from beautiful, piano-led soundscapes to more rock orientated guitar tracks underpinned by Spencer Rowell's expressive fretwork.
The album begins with 'Shiver' featuring a beautiful piano figure and Muse-like vocals, but it's the middle three tracks that really take the ear. 'Tearing At The Seams', a very contemporary sounding, fuzz guitar led wig-out is excellent; 'Nebula', one of those piano-led soundscapes that would sit easily on any Steven Wilson album; and, for my money anyway, the piece de resistance 'Beautiful Dream' complete with soaring vocals and a searing, Gilmouresque guitar solo.
Taken in the round and given the ages of those concerned, 'The Light' is nothing short of staggering. I was totally blown away by a few of the tracks here and although it's not without its faults, the potential is here for all to see.
Time will tell if that potential is realized, but time is what they have plenty of.
****
Review by Alan Jones
Alan sequences "The Eclectic Mix" on the third Sunday of every month on Get Ready to ROCK! Radio, and usually manages to include some prog.
---
| | |
| --- | --- |
| | Print this page in printer-friendly format |
| | |