NORTH MISSISSIPPI ALLSTARS Keys To the Kingdom
Songs Of The South 7061184 (2011)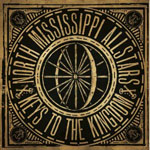 'Keys ToThe Kingdom' is an album about life and death and moving on. It was written specifically about the passing of Luther and Cody Dickinson's father Jim, the piano playing record producer (The Stones, Big Star, Ry Cooder, Dylan etc), and is a project balanced out by the birth of Luther's daughter.
The recording also brought Black Crowes guitarist Luther Dickinson and his brother Cody (drummer for Hill Country Revue) together again to successfully channel their emotions into Luther's insightful songs about life and death. And it is the grieving process that gives 'Keys To The Kingdom' its gravitas and an undeniable emotional pull.
But an emotional outpouring doesn't necessarily make for an engaging album, but a combination of Luther's 'in the moment' song writing craft and the band's natural hill country blues style makes for a perfect combination on an album full of strong songs, played with a ragged trademark sound, topped by emotional wracked vocals and anchored by intuitive musicianship. Equally significant is the choice of guests that reads like a roster of Jim's former sparring partners from Mavis Staples and Ry Cooder to Spooner Oldham, Alvin Youngblood Hart and Gorde Johnson etc.
Each guest brings their own subtle piece of magic to the session, no more so than Spooner Oldham's mellifluous piano fills and Alvin Youngblood Hart's vocal duet and harp playing on 'Ol Cannonball', which make him sound like a long time band member.
Apparently Luther Dickinson had already started writing the songs when his father was ailing and his wife was about to give birth. And it is this sense of unravelling an equilibrium that enabled him to complete a dozen songs that open with raw aggression and then gradually shift towards more passive reflection.
The album is shot through with the immortal words of their late dad who said 'I refuse to celebrate death, I will always be there as long as the music lingers' And 'Keys To The Kingdom' seems to be the brother's response to that message as they explore emotions, places and memories in a hill country blues setting.
As Luther says, 'it's a raw, brutal and honest record' and given the heartfelt lyrics and the blues, gospel, jug band and rock blues elements that rings true.
'Keys To The Kingdom' derives both its spiritual sensibility and its belated moments of levity from a set of songs that work their way through conflicting emotions, ranging from despair and introspection to humorous tension breaking relief, in an across the board range of musical styles that are always routed in the blues. .
The more you listen to this album the more you realise that many of Luther's song all but wrote themselves. He set himself the task of dealing with raw gut emotions in a stream of consciousness delivery before settling on considered reflection and a final emotional resolution. As a result, many of the lyrics carry the feelings and imagery of the connection between father and son(s).
The end result is a hill country rootsy album that opens with a brace of defiant songs, on the riff driven, Allman Brothers influenced 'This A' Way' and the slide led alt. Country number 'Jumper Cable Blues'. There's also a gospel feel and some potent call and response lyrics on the other outer worldly 'The Meeting' which features Mavis Staples before a gradual shift to a more wistful feel on the strong melody of 'How I Wish My Train Would Come'.
'Hear the Hills opens with staccato drums and works as a cathartic release providing the album with the line that became its title, while the slide led 'Let It Roll' is another gospel tinged, down-home blues outing apparently written shortly after Jim's death. As a result it is understandable mournful, but pours its collective emotion into Luther's croaky vocals.
The equally poignant 'Aint No Grave' features Ry Cooder on a song in which Luther calls his dad's lineage the 'music of the spheres. It is also grounded by the lyrical sentiment of 'I would hope to brave as he was on judgment day'. 'New Orleans Walking Dead' takes a leap forward in the grieving process and all but thumbs a nose at the notion of death on a tale of Zombie resurrection. The band finally slips into a tension busting dirgy rock blues workout on 'Ain't None O' Mine' and the cd finishes with the jaunty New Orleans feel of 'Jellyroll All Over Heaven'.
'Keys To The Kingdom' is one of those album's that you think you might struggle to listen to, but you'd be hard pushed to find another release with such emotional impact and wry human observation, top class blues by any other name.
*****
Review by Pete Feenstra
---
| | |
| --- | --- |
| | Print this page in printer-friendly format |
| | |