NITIN SAWHNEY Last Days Of Meaning (2011)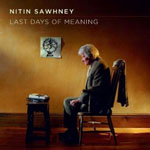 A Mercury, Ivor, Mobo and Oliver nominated songwriter and composer, Nitin Sawhney is one of those artists you're either familiar with or, like me, you've heard the name but none of the man's work.
With a jazz, world, electronic and cultural arts background, it's perhaps not unsurprising that his ninth studio album - Last Days Of Meaning - should be an ambitious album narrated by John Hurt, originally conceived as a script looking at the world through the jaded eyes of an embittered Dickensian character.
It has to be said there's some extraordinarily beautiful and moving performances by the supporting cast of musicians and vocalists who have been brought in for the project, but in truth it would probably work better as a performance piece than as an album.
For a start each musical number is interspersed by some of Donald Meaning's (played by Hurt) ramblings which, while interesting enough the first time around, isn't something you'd want to play repeatedly. And secondly the mix on the narrative seems to be very low meaning you need to be constantly turning the volume up and down (or more likely hitting the 'skip' button).
Short of editing the musical content down for you ipod, the end result is that Last Days Of Meaning is never going to be a casual listen. Of course, it wasn't conceived with that purpose in mind, but the quality is such that it's a no brainer. As is searching out some of the man's former work. One suspects it's equally littered with sparkling chill out gems.
***½
Review by Pete Whalley
---
| | |
| --- | --- |
| | Print this page in printer-friendly format |
| | |