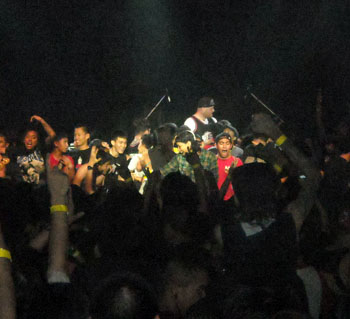 Along with Blink 182 and Green Day, Florida's New Found Glory have found themselves darlings of MTV with their brand of hardcore pop punk which have found their way into many a student's MP3 player. In a career that now spans thirteen years the band have had a steady line up that almost goes back to their beginnings.
Personally I've never really taken any notice of the band before this evening being a classic rock lover myself. I only attended the gig as I had seen the Eagles the night before and thought I may as well stay in Bangkok for just one more night and give myself an excuse to soak up another gig in the City of Angels.
The Thai Cultural Centre was opened in 1987 by H.M the King Bhimibol Adulyadej as part of his 60th year anniversary celebrations and features four stages including an outside ampitheatre in some very plush surroundings which is a welcome retreat from the hot and sweaty hustle and bustle of Bangkok city life.
Unfortunately no alcohol is sold on these grounds which meant for once I actually watched the whole gig without being distracted by the bar. It also meant that i got to see a superb support band. Brand New Sunset are a young Thai five piece who rock just as hard if not harder than Funeral For A Friend or Dear Superstar.
With four albums already released in their native land Brand New Sunset delivered a killer punch with some shredding guitar work from Chai and Karn.
Energetic singer Toon had the young crowd moshing early on forming the first circle pit of the night. With some songs featuring English lyrics like the catchy 'Say Goodbye' Brand New Sunset have the ability to be the first rock band to break out of Thailand into the mainstream. Check out their website www.brandnewsunset.com for more information for these Sony signings.
New Found Glory are welcomed like long lost heroes as it is their first visit to these lands. Immediately the place erupts to the first chords of 'Understatement'. Like a fool I decided to wear flip-flops to this gig, so I took the wise decision to stand at the back and just observe a crazy night. Not only that but I didn't fancy losing my footwear and walk home barefooted crunching a few cockroaches with my bare feet en route.
This was fun with a capital F. The Thai's went beserk for the loveable Americans who were here to party.
Throughout the gig many stagedivers clamoured onto the stage and full credit to the band who didn't flinch once during the gig, everyone was welcome to be part of the show.
If someone fancied grabbing hold of the mic to sing a few lines, that was fine, if you wanted to ask Cyrus Bolooki for a drum stick mid set, that was fine too, or even how about a autograph or a picture? Yes, you get the picture.
I was amazed how everyone knew the words to hits like the poppy rocker 'It's Not Your Fault'. A cover of the Sixpence None The Richer 'Kiss Me' sent the place into overdrive before another mass stage invasion for set ender 'Hit Or Miss' that must of had over fifty people on stage by this time.
Guitarist Chad Gilbert had fans on his shoulders, singer Jordon Pundik was rugby tackled from behind from a over excited fan, but that didn't stop his from his tracks as he casually swung him around on his back whilst not missing a word.
There were so many sweaty shirtless young men jumping onto the stage that at times looked like a go-go bar on the opposite side of the street off Pat Pong Road.
The band expressed their gratitude to the promoters for bringing them to this land and said this was the most fun they've had in years, I could believe it. Pundik said he was going to get a tattoo on his leg ''Bangkok 2011'' he won't be the last farang to do that.
The night ended with a storming 'My Friends Over You', the band couldn't leave the stage that easily as they were mobbed by more fans trying to grab any kind of souvenir they could get their hands on.
The band certainly made themselves the international superheroes fo hardcore tonight. There was only one word to sum up this evening...AWESOME!

Set list: Understatement / Better Off Dead / Truck Stop Blues / All Downhill From Here / Something I Call Personality / Don't Let Her Pull You Down / Hold My Hand / Tip Of The Iceberg / Failure's Not Flattering / Dressed To Kill / Forget My Name / Listen To Your Friends / Head On Collision / It's Not Your Fault / Truth Of My Youth / Sincerly Me / Kiss Me / Hit Or Miss ...encores ... Situations / Sonny / Intro / My Friends Over You



Review and photo by Mark Taylor
---