NEKTAR Retrospektive 1969-1980 Cleopatra (2011)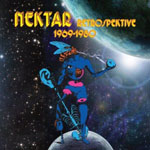 Faux krautrockers Nektar decamped from Britain to Germany as the country's penchant for space-rock took off and did one of the finest jobs on the genre.
Helmed by guitarist Roye Albrighton by way of his pop/prog outfit Rainbows (their two nifty '69 singles get this 2CD set underway), the band charged swiftly out of conventional song-based structuring to more extenuated, spacey guitar/keyboard 'wig-outs' that fused Floyd, Hawkwind and Man (also based in Germany and self-dosing on Amon Duull II et al) in a manner most pleasing to Continental European audiences.
'Retrospektive' does what it says on the tin (or as in this case, box), dipping into the band's recorded repertoire, from 1972's Journey To the Centre of The Eye' to 1980's 'Man In The Moon' by way of major moments 'A Tab in The Ocean', 'Remember The Future', 'Down To Earth' and 'Recyled'.
In the process, it charts commendably a rise as a major purveyor of tripped-out prog to demise: relocated to the US, tasked to more commercial formats, round pegs smoothed into round holes etc.
These albums have done the rounds over the years but that does not diminish the quality music on offer here - there's not a dull moment. And if the future of recorded music is indeed as polarised as we are led to believe (downloads at one end, high quality/low run collectors' editions at the other) the Cleopatra label is on the button, pumping up a mere career resume into a full-blown homage via enhanced packaging (mini-book, poster etc) in a big, bright chunky box that just shouts "Treasure me...!"
Speaking of buttons, you get your very own Nektar badge in the box, too. Wear with pride.
****
Review by Peter Muir
Peter presents 'Progressive Fusion' on Get Ready to ROCK! Radio every Sunday at 19:00 GMT
---
| | |
| --- | --- |
| | Print this page in printer-friendly format |
| | |