NAZARETH Reissues Union Square/Salvo (2011)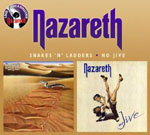 These two marvellous packages bring the Nazareth catalogue up to date with some fine moments, and more ups and downs than the Alps.
Snakes 'N' Ladders, while featuring some great songs, is widely considered a low point in the Nazareth catalogue. It was the start of the friction between the band and guitarist/chief songwriter Manny Charlton. It also suffered friction between Manny and the producer, the latter bringing in programming, session musicians and outside writers. It is overly polished/produced and the performances don't stand out like they should. 'Animals' does stand out, but 'Lady Luck' and 'Hang On To A Dream' just pass you by, and 'Piece Of My Heart' should have stood out a lot more than it does. There are at times some good bluesy guitar, rock melodies, nods to Dan's classic gravelly vocals. Not actually a bad album (bar, perhaps, the bonus 'Winner On The Night', written for a TV show), but little to shout about. The two live tracks, 'Woke Up This Morning' and 'Bad Bad Boy' do salvage something.
No Jive, released at the start of the 90s, saw the return of Billy Rankin, this time replacing Manny Charlton. The band sounded rejuvenated and back on form, enjoying what they do best. 'Hire And Fire' is a heavy opener and 'Right Between The Eyes' rocks you right there. 'Every Time It Rains' is a high class ballad. Riffs and melody aplenty. Classic Nazareth for the 90s.
Released a couple of years later, ,B>Move Me was slightly heavier, and more melodic at the same time. 'Let Me Be Your Dog' is a chunky hard rock number, while 'Can't Shake Those Shakes' will get you nodding guaranteed. The title track is a classy ballad, and 'Steam Roller' a classic solid standout. 'Rip It Up' is a Rankin track he'd first recorded on a solo album in the mid 80s.
Three acoustic versions and a rock-orchestra version of 'Love Hurts' bolster the album.
Rankin then left (again) and the band became a 5 piece with guitarist Jimmy Murrison and pianist Ronnie Leahy. Boogaloo is an uplifting album that takes in a range of influences, from the 60s onwards and some real rock'n'roll. Remixed, extra production, and brass fills the sound on tracks like 'Loveman', while 'Cheerleader' just move you. 'Talk Talk features a piano lead, while many tracks showcase Murrison's excellent guitar work. Having been present in the studio when this album was recorded, it will always be a favourite of mine, but seriously it is essential listening.
Both packages, all 4 albums, come well presented, well annotated, bonus booklets and tracks, and represent a very overlooked part of the band's career that deserve your attention
Snakes 'N' Ladders/No Jive (2CD) ***½
Move Me/Boogaloo (2CD) ****½
Review by Joe Geesin
---
| | |
| --- | --- |
| | Print this page in printer-friendly format |
| | Tell a friend about this page |