NAZARETH Big Dogz earMUSIC (2011)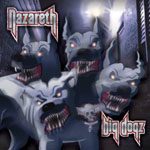 40 years on from the debut and studio album number 22 from the Scottish legends. Much anticipated too, as these guys seem to be constantly on tour.
'Big Dog's Gonna Howl' opens and it shows the band's new sound well. Following on from Newz, Jimmy Murrison's guitar, superb in places, is a more doomy metal sound that harks back to the rough sound featured on Hair Of The Dog, or on tracks like 'Miss Misery'. That said, this is slightly more rock'n'roll than Newz, and more accessible too. The opener, and 'Claimed' too feature segments that hark back to No Jive or Move Me, in a more abrasive fashion.
The intro to 'No Mean Monster' is great, it immediately tells you it's a classic, Pete Agnew's bass a highlight and Lee Agnew's drumming great too. As for Dan McCafferty's vocals, how does he do that? They're the smokin', whiskey soaking vocals that make Brian Johnson sound like Frank Sinatra.
'When Jesus Comes To Save The World Again' mixes moody atmospheric doomy ballad that's totally not Nazareth with some heavier classic segments.
'Radio' is another classic Naz track, let down only by the drum sound. Lee's a great drummer, but the sound on a couple of the drums is so loud and harsh it's about to distort. Dan and Pete are really on form here and the guitar solo great too.
Some of the songs, while each individual element is spot on, they struggles to find the groove, but listen to 'Lifeboat' and it's just such a great track. It flows well, as does 'The Toast', which has the same rock'n'roll feel as Boogaloo. 'Watch Your Back' picks things up too.
'Butterfly' is a great ballad (There's at least one on every Naz album), and 'Sleeptalker' is a solid finish.
****½
Review by Joe Geesin
---
| | |
| --- | --- |
| | Print this page in printer-friendly format |
| | Tell a friend about this page |