NAZARETH Snaz 2-CD Union Square/Salvo (2011)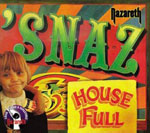 Now this is what I call a live album!
1981 and, after 13 years together, Nazareth finally delivered a live album (a long wait considering their live reputation), and it has to be one of the best and most underrated live sets around.
This was also the first album to see the band expanded to a 6 piece (up from 4), adding pianist John Locke and second guitarist Billy Rankin. Both spar with founder guitarist Manny Charlton brilliantly throughout, adding an extra dimension and some real rock'n'roll too.
Opener 'Telegram' is a real rocker, and the high octane blues rock of 'Razamanaz' will kick the crap out of your bowels guaranteed. Then there's the slower paced blues of 'I Want To Do Everything For You'.
Dan McCafferty's vocals are at their gravelly whiskey soaked best, and the rhythm section of Darrell Sweet and Pete Agnew solid and hard hitting throughout.
While tracks like 'Razamanz' and 'Heart's Grown Cold' proved the band could write a mean rocker or two, the band are also well know for adding their own stamp to a cover or two. And with the likes of 'This Flight Tonight' and 'Love Hurts', this was done with a large amount of success too. As for 'Beggar's Day', 'Java Blues' and 'Tush', every single one will kick your ass and bang your head at the same time. Just time to catch your breath, before 'Dressed To Kill', 'Expect No Mercy' and 'Hair Of The Dog' finish you off.
The entire Vancouver set included several covers the band never played in the studio, and with two new studio tracks tagged to the end (including a rerecording of 'Morning Dew'), it's good value for money.
And as a bonus on this 2CD, there is 'Morgentau' (a remix of the rerecorded Morning Dew with German lyrics), a track originally only available in Germany, and 'Crazy A Suitable Case For Treatment', which was the first track this line-up recorded and was part of the Heavy Metal soundtrack. Then there are 7 live tracks from Seattle on the same tour.
This album is easily up there with Live And Dangerous and Unleashed In The East, and without the overdubs.
*****
Review by Joe Geesin
---
| | |
| --- | --- |
| | Print this page in printer-friendly format |
| | Tell a friend about this page |