Just witnessed your best live gig?.. send us a review!
MR BIG, Shepherds Bush Empire, 20 September 2011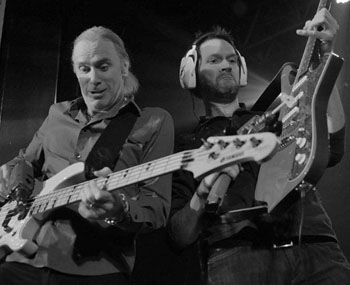 Seemingly back together to stay, melodic rock 'supergroup' Mr Big returned to the venue where they made their UK comeback in front of an adoring audience two years ago.
The sense of occasion was somewhat less this time, and being part of a UK tour rather than a one-off, and a Tuesday rather than a Saturday, the Empire was far from packed.
Incidentally, the poor sightlines downstairs at this venue always annoy me - despite being six foot and in a good place around 10 rows from the front, I could not see the guitars, only the upper bodies of those playing them.
I would wager that a higher than normal proportion of the crowd were also musicians themselves, as Mr Big are very much a musos band, possessing ridiculous technical ability.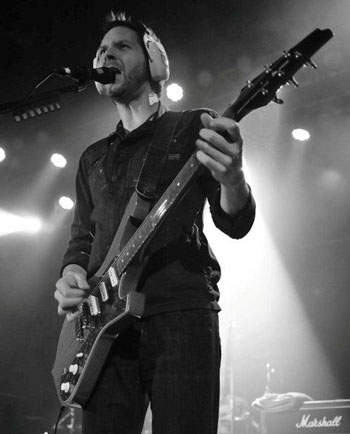 Paul Gilbert, looking rather otherworldly in an outsize pair of headphones, has immaculate, seemingly effortless technique and is just as capable of playing concise riffs as rapid flurries of notes.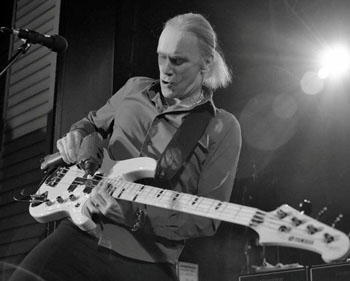 But what sets Mr Big apart is the partnership between him and bassist extraordinaire Billy Sheehan, who plays it as a lead instrument as the two regularly trade ever faster lines off each other. Pat Torpey's contribution should also not be ignored, his subtle and creative drumming a joy to watch.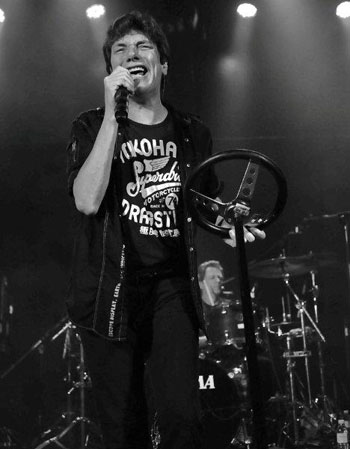 Sadly - even though he still comes over as rock's answer to Peter Pan - time seems to have been less kind to singer Eric Martin. I am a long time fan, but in the words of Brian May - spotted in the balcony smiling and applauding heartily during the set - he is just a shadow of the man he used to be.
Once crystal clear, his voice sounded rather strained and weary and on occasion he seemed to duck out of singing the words. Sometimes he was heavily reliant on the harmony vocals of the other three, or - as on one of the few ballads in the set, 'Just Take My Heart', the crowd.
In fairness, the way he rather huskily spoke between songs suggested he may have been under the weather, although he had also been below par when I saw him on the reunion gig.
They opened with 'Daddy, Brother, Lover, Little Boy', complete with Billy and Paul playing their trademark electric cordless drills, and indeed reprised the opening three songs from their best album 'Lean Into It', following with 'Alive and Kicking' and perhaps their strongest song, 'Green Tinted Sixties Mind'.
I briefly wondered whether they might be celebrating its 20th anniversary by playing the whole album, but late last year they returned with a fine comeback, 'What If', and - just as the sound belatedly became louder - played the lead single from it, 'Undertow', with an insidious melody that grows on you, and the more frantic 'American Beauty'.
All in all half a dozen new songs were dotted throughout the set, and though for me they are short on memorable hooks, the likes of 'Once Upon a Time' and 'As Far as I Can See' were very well received and certainly did not have people heading to the bar as new songs often unfortunately do.
'Lean Into It' was well represented with the swampy grooves of 'A Little Too Close' and the now rarely played 'Road to Ruin' although surprisingly it was well over an hour in before we heard anything from their first album in 'Take a Walk'.
Like it or not, you know that Mr Big will want to show off their musical prowess, so there was an instrumental- preceded by some great harmony singing, a Paul Gilbert solo slot and an interminable jam in the middle of 'Price You Gotta Pay'. Even Billy was unable to make a five minute bass solo interesting for a non-musician like me, but the upbeat closer of 'Addicted To That Rush' was worth the wait.
As usual the first encore saw Eric introduce the band before saying 'I'm the one that wants 'To Be With You', and I looked round to hear people with big smiles singing along lustily to their biggest - and completely untypical - hit, before they showed the other side of their repertoire with a frantic 'Colorado Bulldog'.
Then came the ultimate in musical showing off, as Paul took to the drum kit, playing in a much more robust style than Pat who himself had switched to bass, Eric cranked out the riff to 'Smoke On the Water' and Billy took the mike.
It still sounded pretty respectable, and you could barely see the cracks as they swapped again half way through, with Pat singing, Eric on bass and Billy on guitar.
Smart arses perhaps, but the enjoyment on their faces made it hard not to enjoy, and there was still time for the old Talas song that Billy took with him to Dave Lee Roth's band, 'Shy Boy', which was simply a fun way to end a 2 ¼ hour set with him and Eric sharing the vocals.
You could quibble with the quality of the singing, or with some of the instrumental self indulgence, but this show proved beyond doubt that, when it comes to technical proficiency in the melodic rock world, Mr Big live up to their name.


Review by Andy Nathan
Photos by Lee Millward
Photo Gallery (Manchester 17.09.11)
---