MOUNTAIN Crossroader: An Anthology 1970-1974 (Estoeric)/ Nantucket Sleighride (BGO) 2011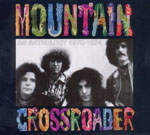 Post the 1969 curdling of British power trio Cream, band collaborator and bassist Felix Papallardi returned Stateside to brew this native, aptly-named counterpart with formidably-girthed, three-chord blues guitarist Leslie West.
Sampling their early to mid 70's peak in Climbing!, Nantucket Sleighride, Flowers of Evil, Avalanche, Mountain Live and Twin Peaks - Esoteric's 2CD Crossroader is an exemplary showcase of their skill at conjoining full-tilt swamp (opener and chart troubler 'Mississippi Queen'), brief and gentle introspection - 'Taunta (Sammy's Tune)', pedal-to-the-floor hard rock ('Don't Look Around') and progressive stridency ('Travellin' in the Dark - To EMP').
Disc 2 evidences a well-regarded live reputation to perfection: tearing into their own catalogue as well as Berry's 'Roll Over Beethoven', the band roars as an unstoppable train through the sweltering night. The closer, inevitably, is best known song and title track to their second (and best) album.
Written by Papallardi and his wife Gail Collins, 'Nantucket Sleighride (To Owen Coffin)' explodes Corky Laing's fast-paced drum coda to the slower first verse and chorus to so dramatic effect that it was chosen to theme British TV news show, 'Weekend World' right up to 1988, gaining Mountain welcome reputational purchase in the UK. *****
Newcomers cannot go wrong with Crossroader but if now primed for action, BGO's obliging reissue of Nantucket Sleighride is a winner, too. Both releases offer fresh and extensive notes; West's open and honest reflections cover the highs, both emotional and pharmaceutical (drugs undid the band), and lows (Papallardi gunned to death by Collins in 1983) but whichever way you look, there's never a dull moment here. ****
Review by Peter Muir
Peter Muir presents 'Progressive Fusion', Sundays at 19:00 on Get Ready to ROCK! Radio
---
| | |
| --- | --- |
| | Print this page in printer-friendly format |
| | |