MOKSHA Here To Go Moksha Music Ltd (2011)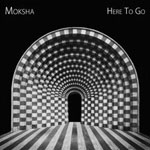 Moksha formed back in 2007 and on their debut - 'Mammal Or Machine' - vocalist Sam Lemos contributed on the periphery. However, now fully integrated, he makes a major contribution to the overall quality vibe on 'Here To Go' and his vocal and lyrical contribution are highlights.
Moksha take in a whole range of influences freely mixing vocal and instrumental tracks and this album exudes confidence and great musicianship. They have the same understated cool as prime-time Atlanta Rhythm Section although Little Feat and mid-period Santana also come into mind. The use of brass and punchy guitar even evokes a funkier Chicago.
If all this sounds a tad retro, it is nevertheless extremely well done. A cool funk vibe permeates throughout, punctuated by Jeremy Park's gritty if understated guitars. Essentially these tracks are highly addictive, especially the breakout sections that give the band a chance to display their grooves. Check out 'The Seed', 'Real Show' and the superb title track for starters.
The instrumentals 'Bubbles' and 'Entranced' are just as compelling. 'Measure Of All Things' gives Brian Triola a chance to show his keyboard prowess, whilst elsewhere there are country and world flavours.
I loved this album when I first heard it and when I revisited sometime later I loved it even more.
****½
Review by David Randall
---
| | |
| --- | --- |
| | Print this page in printer-friendly format |
| | |