Just witnessed your best live gig?.. send us a review!
MIKE & THE MECHANICS, Hard Rock Cafe, London
23 March 2011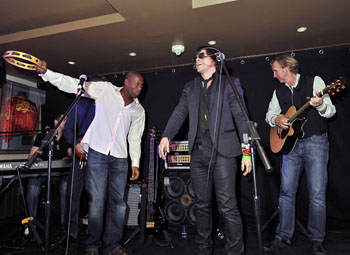 "In 2011 the engine is up and running again with a couple of new spark plugs fitted"
Following the untimely death of the former Sad Cafe vocalist Paul Young in 2000 many felt it was the end of the road for Mike and the Mechanics.
Four years later along with Paul Carrick the group rewired but the chemistry was gone and the band was put on a long hiatus with Mike Rutherford getting involved in Genesis again and Carrick going back to a solo career.
In 2011 the engine is up and running again with a couple of new spark plugs fitted. Mike Rutherford has found the correct fuel for his machine namely in Andrew Roachford who had a decade of top 40 hits from the late eighties onwards with such gems as 'Cuddly Toy' and 'Only To Be With You' and Canadian Tim Howar who has appeared in numerous London's West End shows aswell spending a short time in the London rock band Van Tramp.
Today is a private show with many invited guests from the media with complimentary drinks and canapes on offer followed by a short semi acoustic set introducing the new band to the en masse scribes, with a chance to throw some questions at the band once it's all over.
The show opened up with the title track from the new album 'The Road', a catchy little number that reminded me of the Isley Brothers which has an easy flow to it with Roachford and Howar singing in unison. I'm sure this track could be the feel good summer hit if the record company should decide to release it as a single.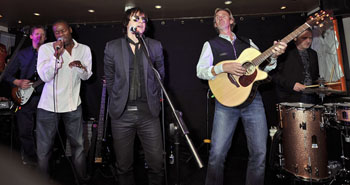 Back on familiar territory, it was interesting to see how the new guys would handle the back catalogue: 'Beggar On A Beach Of Gold' was a chance for Tim Howar to take the limelight and was clearly enjoying himself in his new job.
'Another Cup Of Coffee' Roachford takes the main lead with aplomb and is another smash for the Mechanics that this writer had shamelessly forgotten was a hit for the band. A song that is heard almost daily on the radio, with it's easy listening appeal, it is easy to forget how many great tunes this world class act have.
Halfway through 'Try And Save Me' I had another memory loss as this new number sounded just as good as anything that can be found on 'The Hits' and had to remind myself that this was in fact on the new album.
Tackling the emotional and heartfelt 'The Living Years' could've been a difficult task but Roachford sang in a soulful way with meaning in a song that passed the seven minute mark to great applause.
Looking back with 'Over My Shoulder' it was smiles all round during which Tim Howar entered the crowd in an attempt to get us serious hacks to sing along, but if he wants to hear my dreadful singing, then he can whistle, in fact that's exactly what we did.
An enjoyable afternoon spent in the company of some class musicians. It's full speed ahead with no need to be looking over their shoulder.
If anyone has any doubts about the new Mechanics then check them out live when they hit the road in May.

Set list : The Road / Beggar On A Beach Of Gold / Another Cup Of Coffee / Try And Save Me / The Living Years / Over My Shoulder

Review by Mark Taylor
Photos by Matt Kent