MATT SCHOFIELD Anything But Time Nugene NUG1102 (2011)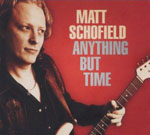 'Anything But Time' is an exhilarating contemporary blues album played for the most part by a trio of guitar, Hammond organ (including bass keys) and drums. The cd comes neatly wrapped with some striking photographic artwork and an inner sleeve photo montage evocative of a cool Blue Note jazz release. Yes folks, its Matt Schofield time again and you need look no further than the opening title track to confirm the confident aura of a highly skilled unit who revel in subtle band interplay topped by incisive guitar lines, the very things with which Matt has made his name on both sides of the Atlantic.
Recorded under the watchful idea of producer John Porter at The Music Shed, New Orleans, 'Anything But Time' is a step up for the young blues guitarist. There's the usual mix of bluesy shuffles, funky elements, jazzy runs, slow blues and inspired playing, but this cd places a greater emphasis on the songs, courtesy of the fast developing Schofied/Dorothy Whittick song writing partnership. Matt's notably improved vocals also make this album less restrained than his previous efforts.
Perhaps it's the change of location and the musical antecedents of New Orleans, or simply the thoughtful pre production, the additional experience of outside producer John Porter and the feel of long time Robert Cray drummer Kevin Hayes that makes 'Anything But Time' a coherent recording with an immediacy that marks it out as Matt's best album to date.
Johnny Henderson contributes the bass parts with his Hammond. It's presumably a stylistic decision - giving Matt his jazzy edges - rather than a commercial decision, as the understated stripped down accompaniment glues everything together perfectly. You may not get the full sonic resonance of a fat bass sound but you get a greater emphasis on space, dynamics and the soloists.
Matt positively leans into the slow blues of 'See Me Through', on which he explores the kind of cutting edge Albert Collins dynamic that he's co-opted, updated and made his own, in the telling presence of the great Jon Cleary who contributes deft piano rolls. There's a requisite amount of feel, fire, subtly of attack and an overall maturity to his playing that enables him to make the most of one of his very best songs.
Equally good is the cover of Steve Winwood's 'At Times We Do Forget' which mixes a familiar funky feel and an expansive chorus that calls for world unity, a sentiment beautifully expressed by Matt's emotive guitar playing. Producer John Porter fattens the sound and adds sprightly percussion that acts as the perfect foil for Matt's solos.
'Shipwrecked' is another funky outing that makes the most of some thin metaphors but includes some fine guitar and organ interplay. Matt eventually soars seamlessly over Kevin Hayes's busy percussive support with Jonny's B3 in an anchor role (no pun intended).
'Dreaming of You' is a languid ballad on which the melody line is emphasized by some thickly applied guitar brush strokes full of a luscious tone and a startling key change that announces a ball busting solo. It's another excellent example of intuitive production as John Porter focuses on Matt's signature sound, built around his crisp, concise and intense solos. 'Dreaming of You' is an impressive stylistic departure with a slow burning melodic sweep pushing Matt into a new territory before he return to the blues on Albert King's 'Wrapped Up In Love'. It's a debatable choice that is rescued by a searing intense solo.
'Where Do I Have to Stand' finds the band making the most of a cluttered mid-tempo arrangement and an awkward key change with some guitar/organ double lines that all but swamp the song. Only Matt's sharp sustained notes and a cool groove allows the piece to breathe before a final solo offers a resolution.
'One Look (And I'm Hooked)' redresses the balance of the album and is a tightly wrapped up funky slice of New Orleans with a close to the mic whispered vocal that cries out for some Johnny Guitar Watson style phrasing, but is still excellent. Jonny Henderson quickly responds to Matt's request to slip into a Hammond solo and Matt neatly rounds things off before a perfunctory fade out.
There's still time for the band slip into overdrive on 'Don't Know What I'd Do', on a trademark Schofield shuffle, with Cleary's tinkling the ivories and Johnny H in his element as Matt delivers another stinging solo.
The closing melodic 'Share Our Smile Again' is the de facto sister track to 'Dreaming of You'. The emphasis is again squarely on the song, the melody and harmony singing, with layered acoustic and electric guitars nicely filling out the sound.
'Anything But Time' expands the key elements of Matt's previous trio led albums and broadens his appeal through a widening of his stylistic focus. Not all the songs work, but for the most part this album achieves that rare thing of capturing the essence of a vibrant jam band in the studio playing with enough sparkle to attract new fans and potential valuable radio exposure.
****½
Review by Pete Feenstra
---
| | |
| --- | --- |
| | Print this page in printer-friendly format |
| | |