MARTIN SEXTON Sugarcoating True North/Kitchen Table Records KTR007 (2011)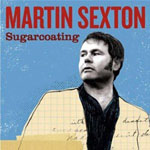 Martin Sexton's 'Sugarcoating' is an aptly titled album that will slip effortlessly on to many a cd player or download, but will surprise many more with 13 songs full of deep meaning and considerable weight. But unlike the time honoured protest singer and socially aware song-writer, Martin's style glides above genres and refuses to be stuck in a one dimensional ideology. Above all has an ability to articulate so much of the craziness that passes for daily life.
So while the title track pulls no punches politically, he displays a rare ability to couch his analytical questions in a partial yodel with some imposing cowboy style backing vocals cushioned by a pedal steel. It's the kind of genre defining track that references Zappa in its ability to lull you into a false sense of security as the music sends out one message and the lyrics something radically different.
But Martin Sexton is a song writer for who meaning and lyrical honesty lie at the core of all of his work. There's never an adjective wasted or a rhyme tossed way in carelessness. He's also very adept at mining different styles of music, taking in country, soul, understated blues, ballads, Americana and west coast influences. There's even space for a very clever Beatles pastiche on 'Stick Around', full of 'Abbey Road' style 'oohs and aahs', steely Lennon riffs, McCartney piano lines and a lyrical refrain that lays bare the 'Abbey Road' connection.
But where 'Sugarcoating' continually scores isn't merely with its broad musical mix, its genre defying adventurousness or even the delicately nuanced vocal phrasing, but quite simply, you soon realise that Martin Sexton has a style of his own. He's a singer whose fierce independent spirit is writ large throughout his songs. The opening 'Found' for example, may remind you of Harry Chapin's story telling or Cat Stevens emotive lyrics. But Martin mines his own tales and gives us lovely lines such as, 'searching for common ground, finding friends among strange faces, that's where I want to be found'. And he also has an alliterative bent in phrases like, 'tangled up in technology'. Sexton's imaginative lyrics are priceless as he makes sense of his and our collective place in an uncertain contemporary urban environment.
But he's equally good at the micro as well as the macro, slipping into some astute and catchy relationship songs such as the compelling 'Boom Sh-Boom' which has a Paul Simon style rhythmic quality, and the equally impressive country tinged love song 'Long Haul'. The latter is full of great harmonies, pedal steel and an imposing guitar figure that neatly tops and tails meaningful lyrics across a range of subjects.
On the unflinchingly honest 'Always Got Away' he adds some vibrant gospel backing and looks no further than the self in a song full of self realisation on which he adds some clever lyrics that really hit the mark; 'What is success, house on a mountain top, things that cost a lot of money I got, comfort the best inside'
He's also unafraid to step outside of his own immediate concerns, as he pens a beautiful ode to his son 'Shane', which passes on his own experiences, while on the Nic Drake influenced 'Wants Out' there's more emotive phrasing on a beautifully judged song full of dreamy momentary stops and starts that underpins a broken love story.
You could dip into any one of these songs for life reaffirming positivism, political conviction or just plain libertarianism, but that would be to step outside of the flow of an album that is as musically adventurous as it is lyrically adroit. 'Sugarcoating' is simply an exquisite album that in the best traditions of all good works offers more insights with every listen. Some of Martin's most heartfelt feelings and moods are best captured on a song called 'Alone'; ''It's called alone, the coldest note a throat can sing, the coldest light a dawn can bring'. His music expresses feelings that can affect us all, and you don't have too dig deep to discover that this album is full of many more such revelatory moments.
*****
Review by Pete Feenstra
---
| | |
| --- | --- |
| | Print this page in printer-friendly format |
| | |