MARILLION Live From Cadogan Hall Ear Music/Racket Records (2011)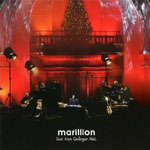 Marillion are a band I go through phases with as they can produce some wonderful albums like 'Marbles' and 'Anaroknophobia' which are offset by very average albums like 'This Strange Engine' and 'Marillion.Com'. This new double live CD celebrates their 2009 'Less Is More' tour where the band went all acoustic and reinterpreted some of their songs in an acoustic setting.
For the most part this works very well indeed with 'This Is The 21st Century' and 'The Space' sounding very different when stripped of their electric guitar parts and synths. Steve Rothery must have been hard pressed to resist the urge to whip out his electric guitar for a solo or two. It can however see the band drift perhaps too far into MOR-ville as 'Out Of This World' demonstrates.
The second disc sees the band dip even further at times into their back catalogue with a different reworking of 'Easter', no mean feat given the fact that the song was acoustic to start with and 'No One Can'.
Listening to other songs like 'Gazpucho' and 'Estonia' again you marvel at how the band reworks the music to produce another take on it. The second disc shades it for me as the songs are tighter and don't overstay their welcome.
This set is also available on DVD and BluRay, the latter includes a copy of the 'Less Is More' album.
****
Review by Jason Ritchie
---
| | |
| --- | --- |
| | Print this page in printer-friendly format |
| | |
***** Out of this world | **** Pretty damn fine |
*** OK, approach with caution unless you are a fan |
** Instant bargain bin fodder | * Ugly. Just ugly
get ready to rock is a division of hotdigitsnewmedia group