MARIANNE FAITHFULL Horses And High Heels (2011)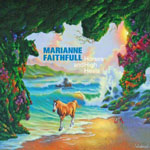 I've never really understood the media's fascination with Marianne Faithfull. Yes, she's an icon of the sixties, and brilliant value as a talk show guest. But as a serious recording artist, I'm not so sure.
Yes, As Tears Go By (the first ever song written by Jagger / Richards) is an undeniable classic dating back to 1964. But since then her life has been an unparalleled rollercoaster ride peaking with public adoration for her work as a singer and actress, and troughing in a drug filled bohemian meltdown.
But one thing Marianne Faithfull is, is a survivor. Lesser mortals would have succumbed, many times over. So what we have here is her 23rd solo album. Fans apart, I suspect most of us could only name one of the previous 22 - the 1979 'classic' Broken English.
Considered by many to be an honorary member of rock's aristocracy, Faithfull is by her own admission, 'unconventional' and Horses And High Heels is equally likely to divide opinion. Recorded in New Orleans in September/October 2010, and produced by Hal Willner it's an undeniably beautifully constructed piece of work including eight cover versions and four co-written new songs.
The musicianship - primarily local musicians, but with guest appearances from Lou Reed, Dr. John and Wayne Kramer - is second to none and paints an astonishingly atmospheric and broody canvas for Faithfull's throaty, semi spoken, vocals.
When it works, as on the poignant cover of Lesley Duncan's Love Song, or the moody title track, it's stunning. But it's hard to tell whether that's down to the strength of the songs or Faithfull's interpretations. Ultimately, Horses And High Heels is a bit like Marianne Faithfull herself, something of a flawed gem.
***½
Review by Pete Whalley
---
| | |
| --- | --- |
| | Print this page in printer-friendly format |
| | |