MANRAZE Punkfunkrootsrock earMUSIC (2011)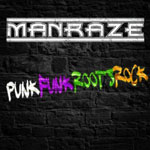 With a more matured feel than 2008's 'Surreal', and with more than a passing touch of Def Leppard to it, ManRaze's sophomore album 'punkfunkrootsrock' is a slick, well written and produced affair that is as catchy as hell.
The combination of Sex Pistol Paul Cook's drumming with the bass playing of Girl's Simon Laffy and Phil Collen's guitars and vocals is one that works extremely well and the melting pot of collective influences is what makes ManRaze work so well as a band.
GRTR! Features Editor Pete Feenstra caught up with Manraze drummer Paul Cook to ask about the latest project...
Manraze appears to be a successful balance between Punk energy and stadium rock hooks. Was that the idea on 'Punkfunkrootsrock?

Well it's all down to the songs at the end of the day. And since Phil is the main songwriter in the band there is always going to be some of his style in there.
I mean we all did our tuppence worth and the big thing was we got the songs down pretty quickly and mixed them etc. And the result is as much due to spontaneity and what went down as much as anything.

Were the songs mostly written before you recorded or did some of them come together in the studio?

We'd got the basic ideas down before we went into the studio and then we sent each other our input and ideas over the internet etc.
But I think we all went into the studio with an open mind and that made the session very spontaneous. I think that's why it all worked so well.
We all did different things, like I played on some backing tracks for example or me and Simon might work on a general track and be ready for Phil to do his thing.
Opening track 'Over My Dead Body' is the perfect choice of track to kick off the proceedings and is also the first single from the album.
The vocals on 'I C U In Everything' have an almost slowed down feel, there is a rousing version of Hendrix's 'Fire', 'Closer To Me' has a reggae-lite feel to it (almost in a Police like way) and 'Lies' is a perfect slice of '80's pop rock.
There is also a great '70's infused rocker in the form of 'I, Superbiker' and a lively instrumental in album closer 'Dogbite'.
Then comes the 'Def Leppard' effect, and it is clear that guitarist Phil Collen is a massive part of the writing process for both bands as there are a number of tracks on 'punkfunkrootsrock' that would nicely fit on any Def Leppard album from the mid-nineties onward. In particular tracks like 'Dreamland', 'Get Action', 'Edge Of The World' - which has a slow opening that gives way to a massive sounding track, and 'All I Wanna Do' are Leppard-like, although the latter is at the poppier end of things.
But when it comes to it, 'punkfunkrootsrock' is a strong album that can stand on its own feet - if it wasn't, then the above may have been an issue but as it is fans of the band will no doubt embrace the album.
*****
Review by Nikk Gunns
---
| | |
| --- | --- |
| | Print this page in printer-friendly format |
| | |