MAGENTA Chameleon Tigermoth (2011)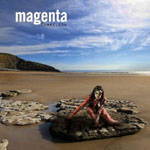 Originally conceived as a studio project, Magenta are something of an enigma. Even the band's recent album titles Metamorphosis (2008), and now Chameleon suggest elements of uncertainty.
With their particularly impressive second album Seven (2004) the band were widely regarded as the vanguard of a nu-prog generation, proudly sporting their influences in the form of all things prog (Yes, Genesis, Hackett, Floyd, Mike Oldfield and many more).
But in the intervening years, and despite a highly consistent output, a new breed of proggers has emerged. Bands with a harder rock edge, but also sporting female vocals. Bands like Touchstone, Panic Room, and The Reasoning.
And so Chameleon finds Magenta at something of a crossroads. Having 'lost' guitarist Martin Rosser who with long time band associate Dan Fry (bass) has formed the altogether more edgy and aggressive C-Sides, and without a permanent drummer, Chameleon finds Magenta pretty much stripped back to the core of main man Rob Reed, guitarist Chris Fry and vocalist Christina Booth. Rosser does however make a couple of cameo appearances and once again Kevin Bailey plays drums.
Having become something of a Magenta obsessive in recent years, and lucky enough to see their wonderful acoustic performance at Real World, I can safely say that fans of the band will delighted by Chameleon. All the characteristic trademarks are there in terms of song writing, playing and singing.
But in terms of progression or attracting a wider fan base the album breaks little new ground and could be seamlessly mix and matched with most of the band's catalogue.
Somehow, Magenta never quite seem to have established their 'own' identity and Rob Reed's paranoiac ear for detail and Alan Parsons-like grip on the production leads to a sound that, while impeccably recorded and produced, is like a delicately stitched piece of tapestry. As result their studio output can, at times, seem to lack a little spontaneity and 'soul'.
Fresh blood could be the answer, but one suspects no one other than Rob is ever going to call the Magenta shots. All that said, there are, as always, some hauntingly beautiful playing and epic moments on Chameleon. The three longer tracks - Guernica, Book Of Dreams, and in particular the closing track Red - are especially worthy of note and as good as any of the band's previous work.
As an album Chameleon is up there with the best of the Magenta catalogue. Fans should buy with confidence, and for those unfamiliar with the band it's a good starting place to explore all Magenta have to offer.
****½
Review by Pete Whalley
---