MADISON VIOLET The Good In Goodbye True North (2011)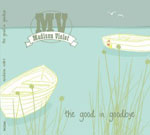 There seems to be a proliferation of bands fronted by, or consisting of two female harmony vocalists at present. At one end of the scale there's the pop / soft rock of The Pierces, and at the other number of bands on the county / folk circuit. Bands like Larkin Poe and The Toy Hearts.
Madison Violet (Brenley MacEachern and Lisa MacIsaac) are a band who fall firmly in the latter category and will be in the UK in Jan/Feb 2012 to promote The Good In Goodbye, their fourth album. Once again it finds the girls produced by Les Cooper and backed by a strong supporting cast including Joel Stouffer (Dragonette) on drums, Aidrian Lawryshyn (Andy Stochansky) on bass, backing vocals by Rooth Moody (The Wailin' Jennys) and singer songwriter Blair Packham.
Their previous album No Fool For Trying proved to be something of a breakthrough scoring big with the critics on both sides of the pond and the band have since won the 2009 John Lennon Songwriting Contest, the 200 Canadain Folk Music Award for Vocal Group of the Year, and a 2010 JUNO award for Roots and Traditional Album of the year.
The Good In Goodbye doesn't seek to diverge from a winning formula and is another Americana country / folk inspired set that takes the listener on a relaxed and laid back ride punctuated with sumptuous vocals and subtle pedal steel, mandolin, banjo, guitar and fiddle playing.
It may not have the mainstream cross over appeal of The Pierces, but it is undoubtedly a soothing record.
***
Review by Pete Whalley
---