Just witnessed your best live gig?.. send us a review!
MACHINE HEAD/Bring Me The Horizon/Devil Driver
SECC Glasgow, 5 December 2011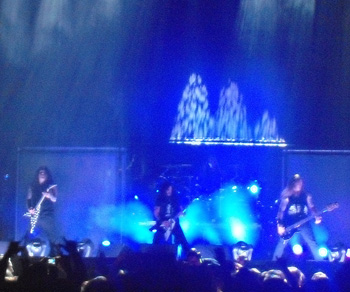 Machine Head must have more Air Miles than any other band on the planet. After their seemingly endless three year tour in support of 'The Blackening' album you could have forgiven the band if they had disappeared on an 18 month hiatus to recover and record, but no, after a few months new album 'Unto The Locust' was released and the band are back on the road on this 'The Eighth Plague' world tour.

The band had put together a good supporting bill and have moved into larger halls, so in full flow by the time I arrived were Dez Farfara's crew Devil Driver. I hadn't heard much of the band before this but they put on a hard and heavy display. Dez, replete in kilt, bonus points there, was in fine voice whilst the band were on pulverising form and the crowd loved every minute.
Their set was short and I only managed to catch three numbers but that was enough to convince me that Devil Driver live are a spectacle worth seeing again. Maybe the rumoured Coal Chamber reunion is a bit premature.

I have been in the SECC many times but I have never taken time to examine the actual structure and intricate steelwork of the building which is an engineering joy, however during Bring Me The Horizon's set I had plenty of time to do just that as an alternative to looking for a freshly painted wall to stare at.

Whoever put this bill together made a grave mistake here as BMTH were roundly booed from the word go. Their form of stop/start shouty nu metal did not fit in and whilst they did have a small following in the hall, they were up against it and didn't appear to win anyone over throughout the set.
Singer Oliver Sykes kept between song banter to a minimum, perhaps all too aware that there wasn't much love in the hall. The band did their best and no doubt in their chosen sub genre they are nearing the top of their game, but here tonight, they started low and eventually sank without a trace.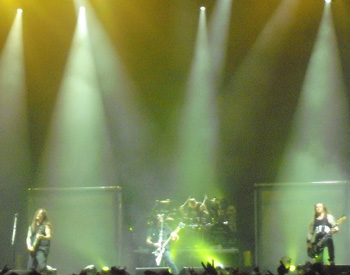 With the air full of the traditional battle cry of Machine F**kin' Head, the lights went down, the screens on stage burst into life and Machine Head launched into new album opening track 'I Am Hell' which is an absolute monster. This set the tone nicely for the rest of the night which was a consummate display of heavy metal at it's finest.
Continuing with another new number 'Be Still And Know' the band made the stage their own, obviously comfortable with the larger halls and bigger crowds they now command added to by an excellent light show and on stage projections. Rob Flynn is forever the humble host, thanking everyone for their support at every opportunity and repeatedly saying how much the band love playing in Glasgow.

As well as playing 6 numbers from the 'Unto The Locust' album, there were plenty of old classics to enjoy, Imperium, Old, and Ten Ton Hammer to name but a few. It was the encores though that really cemented the nights success.
First up was crowd favourite 'Halo' during which the Glasgow choir were in fine voice and the set was rounded off nicely with a blistering rendition of 'Davidian' with members of Trivium and In Flames being ushered onstage to add their voices to a quick burst of 'let freedom reign with a shotgun blast'.

Machine Head have moved up to this size of venue with ease and it has been a long time coming. If tonight's performance is anything to go by their continuing success is guaranteed and well deserved.


Review and photos by David Wilson
---