LISBEE STAINTON Go (2011)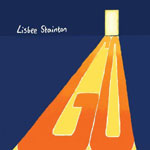 Wrench, the lead single from the third album from up and coming British folk/pop star Lisbee Stainton, had us salivating here at GRTR!
When Lisbee's Girl On An Unmade Bed was released two years ago, her maturity as a singer and songwriter shone through, even at the tender age of 21. While doffing her cap to 'serious' artists such as Kate Bush and Sam Brown, it was nevertheless a refreshingly contemporary and 'mainstream' album that found widespread acclaim and extensive Radio 2 airplay.
That led to an UK tour support slot with Joan Armatrading and a 40 date headlining European tour. And with that road work under her belt, Lisbee returned to writing Go - an album full of songs of love and relationships, self doubt, and dark tales of love induced suicide. To promote it, she's been booked as the support on Paul Carrack's forthcoming European tour.
So the future looks bright. But in the shadow of the brilliant Wrench single, Go falls somewhat short of expectations - yes, it's a lovely wistful and sparkling folk/pop album, but it has a tendency to drift along with one track blurring into the next, and all too infrequently grabbing the listener in the process.
It's an easy listen and the performance is fine, but the material just doesn't quite reach the high watermark set by Girl On An Unmade Bed.
***
Review by Pete Whalley
---