TONY LEVIN/DAVID TORN/ALAN WHITE Levin Torn White Lazy Bone Records (2011)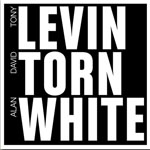 'Levin Torn White' is a muscular and at times dark and dense album filled with layer upon layer of trio interplay that makes the most of some spontaneous free-form playing. Except of course that is not strictly true, because the essence of this adventurous album lies in drummer Alan White's rhythm tracks over which producer Scott Schorr has layered the thrilling improvisational work of Chapman stick/ bass player Tony Levin and guitarist David Torn, who also apparently contributes 'textual events', which I assume to mean loops and various electronic effects..
This is the kind of album that sometimes treads a thin line between moments of spontaneous brilliance and the king with no clothes. It helps of course to know that the members have worked with the likes of Yes, Crimson and Beck because it's often the case with improve that you are not always able to distinguish one truly memorable or spontaneous musical moment from its mundane opposite. Any such reservations are not immediately lifted by the plodding opener, the aptly titled 'No Warning Lights', which at least gives you a veiled reference as to what to expect, as a doomy dirgy rumble fills the studio with little more than dark ambience and intense volume with little sense of any progression.
The key to getting to grips with this album is to follow the time signatures or otherwise, of Alan White's drumming which dictates the pace and direction of the 14 tracks. And if the results are not strictly exponential, producer Scott Schorr's guiding hand successfully crafts a coherent whole, albeit it it's a triple decker linear progression rather than a satisfying organic whole. It was probably him who decided on the brighter 'Ultra Mullet' as the second track, with its growling guitar, and nifty bass work (but a dirgy outro).
At times there's a cold, almost detached feel to the proceedings, in so much as the feverish and explosive playing has no room for constraint and probably reflects the manner of the album's construction. Of course in our current technological age many albums are the result of musician delivering their parts from different geographic locations but when you are dealing with improvisation, there's an argument to be made for being in the same place at the same time.
All that said, there's no denying some brilliant individual contributions. Thus 'White Noise' is all about Alan White's busy drum track and you can almost feel the genesis of the whole project on this one outing. His disciplined drumming and crisp cymbals work underpins Levin's frantic bass work as a distant train sound subtly weaves in and out of the track before a fractured outro. 'The Hood Fell' is also apparently based on a rock solid drum part with a regular time signature and mutates into a dirgy drone, punctuated by a series of growling guitar squalls that might have come from the King Crimson 'Red' era.
'Monkey Mind' evokes early Beefheart, and has all manner of curious guitar effects that weave in and out of the rhythm track. It's one of those moments on the album where you can feel the interrelated musical layers at play. The curiously titled 'Cheese It, The Corpse', is a tightly wrapped cacophonous piece that producer Schorr must have worked hard on, as Tony Levin plays an extraordinary busy bass line. The short stop-start spiralling guitar and bass parts are given their definition by Alan's propulsive drumming at the heart of the piece.
'Convergence' by contrast, is one of the few tracks that appears to have a title related musical content and effectively works as a link piece. Perhaps Alan White went to make a cup of tea at this point? But given the drummer was an isolated figure in the studio, its more likely that Scott Schorr felt the need for a bit of sonic space. Either way it softens us the listener before the brooding 'Pillowfull of Dark', on which the basic track is offset by an acoustic guitar and clanking percussion before the whole caboodle becomes subsumed by a big soundscape.
'The Eggman Cometh' briefly enjoys a fleeting funky opening and is awash with exploratory guitar tones. And having come thus far on the back of layered improvisation 'Sleeping Horse' sounds more like a producers synth noodles and a few guitar parts rather than weighty improvisation. Ambient music perhaps, but progressive rock no.
'Prom Night of the Centipedes' comes closet to resembling a band playing together, even if they didn't, with Torn exploring a growling tone over a repeated sonorous bass figure, with gentle evolving synth lines and a distant voice, as Andy White thrashes away and 'Crunch Time' is a sonically dense piece that makes good use of a stereo effect, which showcases Levin's rumbling bass and Torn's outer worldly guitar sounds over White's pristine cymbal work
Finally 'Brain Tattoo' finds guitarist David Torn at the top of his improvisational skills dropping in chords, mangled phrases and all manner of tones to make the most of Alan's muscular percussion. And the closing 'Light's Out' actually sounds like an end piece, probably the result of producer Schorr's keen conceptual grasp of a difficult but enjoyable album.
****
Review by Pete Feenstra
---
| | |
| --- | --- |
| | Print this page in printer-friendly format |
| | |