LEGEND Cardinal Points www.stevepaine.org (2011)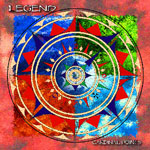 I last reviewed a compilation by these pagan prog rockers and commented that the guitar work was disappointing. Given that some of those recordings dated from the late 1980s the band can perhaps be forgiven as they obviously represented a certain moment in time and evidently dubious production values.
After that review some correspondence ensued with mainman Steve Paine: surprisingly his keyboards and the vocals had been criticised previously but not the guitarist.
It seems that the band's progress since 1988 has been stop-start with musicians coming and going but the core remains Steve and John Macklin (drums). Now joined by original vocalist Kerry Parker and bassist Dan Nelson, 'Cardinal Points' represents an update of ideas that were forming in the late-1990s but apparently shelved due to label and personnel upheaval.
Opening track 'Carved In Stone' sets the tone, with Kerry's vocals evoking early Sonja Kristina (Curved Air), some atmospheric flute from Clare Foster and swirling keys from Steve Paine.
But, again, it's the guitar work that lets the whole thing down. New recruit Dave Foster (who has performed with Steve Rothery's Wishing Tree) mainly punctuates the rhythm (although without any real muscle and a lack of layering in the production) but what is needed is some creative and dynamic fretwork to match the impressive musical credentials on show, not least from Paine himself. 'Whisper On The Wind' and the more accessible 'Spark To A Flame' give Foster a chance to shine but in truth it's less than convincing, especially on the latter track.
I think the technical term for this genre is Pagan Rock and historically the band occupy a space vacated by the likes of Black Widow and now occupied by one-time label mates Inkubus Succubus.
Whilst there is something definitely attractive about their sound, I feel that they could have tried updating what is basically an early seventies retro prog romp and maybe embraced symphonic metal flavours to reach a wider (and younger) audience. There are elements but the production is not tough enough to support this and certainly not Foster's guitar.
On one level the album works because frankly it makes few concessions to modernity so it sounds like it could have been produced a few decades ago, an honest effort with an absence of commerciality, and maybe that's the general aim.
And whilst 'Spark To A Flame' would make a good single 'edit' there is the lack of a few short, easily digestible tunes which may at least give the album a chance of radio airplay other than tucked away on some obscure night-time prog station.
What is needed still is some unique selling proposition. Kerry Parker's vocals are fine in the context of the dark and atmospheric song structures and you can almost smell the witches cauldron on 'Spark To A Flame' in the mist-shrouded synth breakdown. Steve Paine should be applauded both for his keyboard work, his vision, and for keeping the Legend alive.
But for a band with roots in the late-1980s, and such obvious potential, this latest offering could have been the stuff of, er, legend. As it is, they will continue to trade on a perception that they are indeed a long lost legendary prog band from back in the day. Perhaps that is their USP after all.
***
Review by David Randall
---
| | |
| --- | --- |
| | Print this page in printer-friendly format |
| | Tell a friend about this page |