Just witnessed your best live gig?.. send us a review!
L.A. GUNS, The Underworld, Camden
Sunday 9 Oct 2011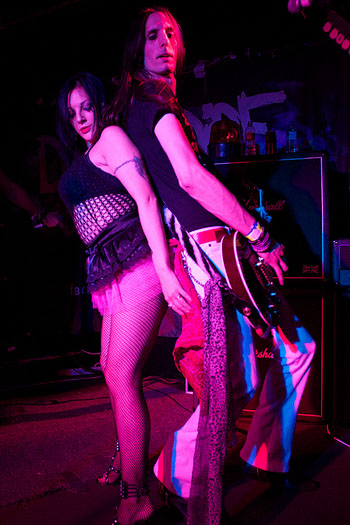 Into their third decade (and who knows how many different incarnations) the Phil Lewis version of the L.A. Guns hit town on Sunday, headlining The Underworld in Camden. It's a sad reflection of their weakening pulling power that the only London date on a minor tour of Europe should be at this dank and dark hell-hole of a venue.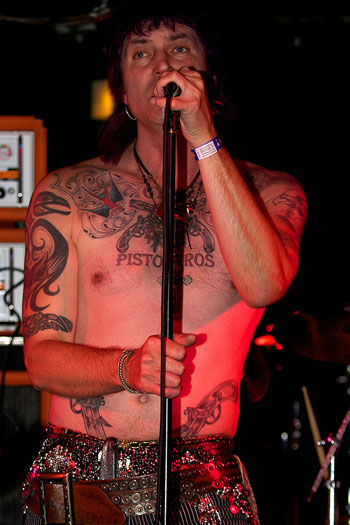 The first band to take the stage tonight were the Gypsy Pistoleros, who, for the uninitiated, are a mix of sleaze rock and Spanish flamenco delivered in a Brummie accent.
They had brought a reasonable number of fans from the Midlands, and their crowd-pleasing opener Bandido got the venue rocking nicely.
After their fourth song, Pistolero, frontman Lee announced a new record deal, one of whose clauses insisted that the band not perform live when drunk... "Shit, I've never heard us play sober!".
Well, the poor sound quality was in no small part due to the lack of technical ability of the venue's sound engineer (a recurring problem throughout the night) rather than lack of drink on the band's part.
Having last seen them at The Bulldog Bash in 2010, I can safely say that the venue on Sunday did them a great disservice.

Set List: Bandido, As Close As You'll Ever Be, Hotel De La Muerte, Pistolero, Livin' Down With The Gypsies, Livin' La Vida Loca, Para Siempre and Ay Que Dolor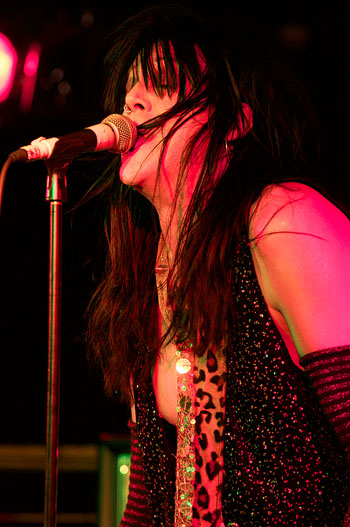 Next up were Seattle based glam rockers Prophets of Addiction. If old fashioned 1980s down 'n' dirty sleaze glam is what you want, the Prophets will deliver, with aplomb.
In some ways they reminded me of the early years of Hanoi Rocks, while singer Lesli Sanders (formerly with Pretty Boy Floyd) can at times sound like Axl Rose himself.
While most of the songs in their set can be found on their debut album "Babylon Boulevard" a punk metal version of Maggie May was thrown in for good measure.
Overall, their mix of metal power ballads (Self Portrait, Where Are You Now) punk (Rejection) and sleaze glam (Babylon Boulevard, Alter of Altercation, Kick It In, etc) entertained the gathering crowd.

Set List: Babylon Boulevard, Rejection, Alter of Altercation, Self Portrait, Kick It In, Trigger, Still Alive, Maggie May, Where Are You Now, Hang Me Up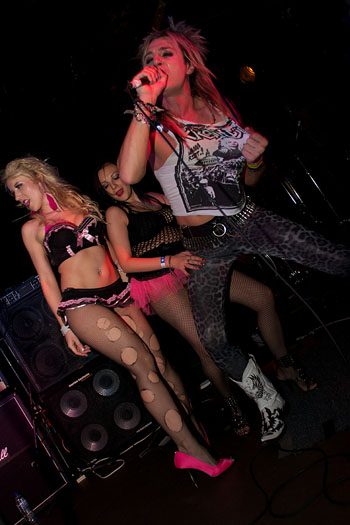 The final warm up act of the evening were Damn Dice, formed at the beginning of this year, but whose line up was only completed some four months ago.
Being the cultural melting pot that it is, this London based band consists of French brothers Wallis (guitar) and Fransoa (drums) who are joined by Italian Marco (bass) and our very own Bobby Valentine (vocals) to create a high-energy sleazy hard rock sound.
Having already supported tribute band Guns 2 Roses, it was perhaps fitting that they should support the L.A. Guns on the European part of the tour.
While they certainly had their supporters in the crowd, I personally felt they were trying just too hard to be another Guns 'n Roses. Maybe, given time, they will find their own sound, but most of their current songs lacked depth and originality.
Interspersed with their own creations, we were also treated to a few covers, including Bon Jovi's You Give Love A Bad Name, helped with a couple of dancers on stage to give us all a flavour of what it must have been like to have been at the Whisky A Go Go on Sunset Strip in the heyday of bands such as Motley Crue, L.A. Guns and Whitesnake.
Maybe this band will be worth catching again once they've been together a little longer, and at a time when they're not coming to the end of what has been, for them, an exhausting few weeks.

Set List: All Night Long, One More, Taking Over, It's a Miracle, Tears in The Night, You Give Love A Bad Name, In Your Eyes, Spin Me Round and Roll The Dice
---
Looking like the evil child catcher from Chitty Chitty Bang Bang, and hiding various ladies' knickers inside his long leather coat, Phil Lewis marches on stage and takes control.

---
So, just who are the real L.A. Guns? We've all seen Spinal Tap, but had the film makers based the story on the L.A. Guns it would have been thrown out as being too unbelievable... band member leaves, changes name and re-joins, leaves again to form bigger band while others return, split up, form two different bands with the same name, launch albums and tour separately... huh????
Well, so it is with The L.A. Guns. Also touring Europe earlier this year were Tracii Gun's version of the L.A. Guns, who received mixed reviews including a very poor one from The Scotsman when they played The Classic Grand.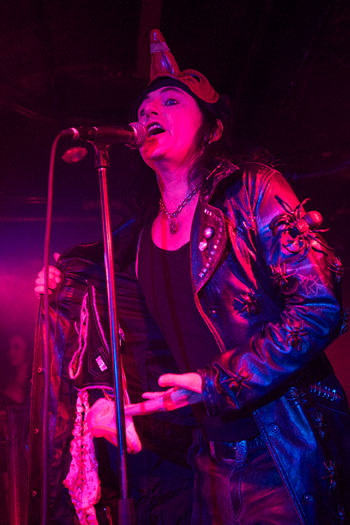 The Phil Lewis version on view tonight, however, was a different kettle of fish. Looking like the evil child catcher from Chitty Chitty Bang Bang, and hiding various ladies' knickers inside his long leather coat, Phil Lewis marches on stage and takes control.
Opening up with It Don't Mean Nothing and Gypsy Soul from "Tales from the Strip", the set really took off with Sex Action and the delightfully raw Never Enough.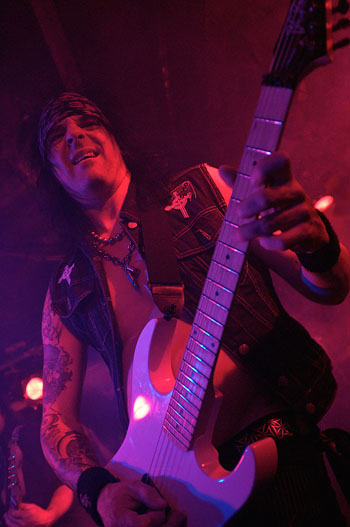 With a line up consisting of Stacey Blades (Guitar), Scott Griffin (Bass) and Steve Riley (Drums) this version of the Guns (the best in my opinion) ripped through song after delightful song from the first three albums, "L.A. Guns", "Cocked & Loaded" and "Hollywood Vampires" before finishing off with Electric Gypsy, Ballad of Jayne and Rip and Tear.

Set List: It Don't Mean Nothin, Gypsy Soul, Sex Action, Never Enough, Over The Edge, I Wanna be Your Man, Vampire, My Koo Ka Choo, Sleazy Come Easy Go, Showdown, Hellraisers Ball, Electric Gypsy, Ballad of Jayne and Rip and Tear


As for The Underworld itself, it continues, indeed flies the flag for that Camden tradition of "I don't give a fuck"... disgusting toilets that are maybe cleaned once a year, surly staff, over-priced drinks, poor sound quality and a lighting rig that merely needs adjusting so that it lights the stage and not the walls or the floor just in front of the stage!


Review and photos by Bob Singleton
---