KRISSY MATTHEWS Hit The Rock Rock the Earth 471090-2 (2011)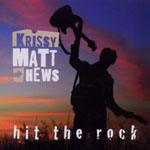 Krissy Matthews 'Hit The Rock' is fiery album full of steely riffs, unbounded passion and 60's derivative bluesy material. In truth it's an album in search of a producer to reign in his feverish energy levels and his undoubted guitar prowess.
And while there are influences aplenty, it's Krissy's individual style and versatility that makes 'Hit the Rock' just that bit more interesting than a raft of similar releases. It rough edged, raw and raucous by turns, and you suspect young Krissy wouldn't want it any other way.
From the opening drum roll of 'Feeling For The Blues' to the surprisingly subtle finale of 'Back On The Road', you can feel a young guitarist itching to express himself through his playing. And that's just what he does on a rip-roaring ride as he fires from the hip and occasionally misses an intended target, but does so with enough frisson to wake the dead.
Barely a minute into the opening 'Feeling For The Blues' he's firing on all cylinders with some interesting Eastern sounding tones, vibrant shredding and a coarse Johnny Winter style vocal - which he later revisits on 'Second Class Zone' - before returning back to the main riff.
In many respects the intense opening track is the key to what is essentially a guitar album full of dexterous playing, deep warm tones and ever present fiery solos. On the grungy blues of 'When Times Were Hard' he makes the most of a double guitar line, big toned riffs and some delicate harmonics before adding an edgy harp for good measure. The vocals may be lamentable but the playing is as impressive as it is intense.
'Sweet Loving' combines both acoustic and electric guitars and sounds like a Yardbirds bonus track from the 60's, especially with the vocal and guitar double lines and a rhythmic drum pattern which extends into a drum solo. The latter would generally be considered superfluous but it's imaginative and coherent enough to retain the dynamic of the song.
Overall more work could have been done on Krissy's vocals from his basic phrasing to the half spoken delivery on 'Tell Me', which is a track that uses the intense quiet/loud, acoustic/electric divide to good effect. It's a coherent triumph that suggests a real way forward, as Krissy delivers two barn storming solo's after an acoustic opening
It's quite hard to imagine quite what the old hoary rocker 'Mystery Train' is doing in this set, aside from providing an impressive showcase for some delightful picking and Charlie Coombes's ability on rolling piano.
The funky 'Time Machine' is a 60's homage and is thematically consistent with the overall Brit Blues Invasion feel of the album. It's full of tightly wrought note clusters, subtle changes of tone and effective bv's. 'Images' on the other hand, is a cool blues instrumental full of brushed strokes, a trebly guitar tone, a brief descending glissando and a strong melody that offers a distant echo of 'Sleepwalk', but builds up a head of steam before returning to the theme.
'Hit The Rock 'N' Roll The Car' is much more puzzling, with its oblique titular pun and stop-start tempo changes. It doesn't really flow and sounds more like two disparate ideas glued together, with only a fiery solo and weighty organ accompaniment offering any form of cohesion and resolution.
'Too Much' opens with the riff similar to 'Spoonful' and again evokes the 60's, and has some double tracked vocals that give the track its busy feeling. Krissy adds slide guitar and growls like Johnny Winter on 'Second Class Zone' with the belated piano/acoustic duet being as sprightly as it is unexpected. Its all neatly topped by a final slide flourish that he reprises on the impressive finale' Back On the Road'.
The chiming tones and delicate reverberating notes are the perfect finish to an album that for all its smoking barrel approach suggests he has the sensibility and touch to further explore some of the adventurous music that 'Hit the Rock' fleetingly embraces.
***
Review by Pete Feenstra
---
| | |
| --- | --- |
| | Print this page in printer-friendly format |
| | |