Just witnessed your best live gig?.. send us a review!
KING'S X, Electric Ballroom, Camden 12 April 2011
Kings X were on the verge of becoming megastars back in 1988. The Texan trio came out into the new age with a sound not heard before. Down-tuned guitars mixed with the harmonies of the Beatles and this was two years before Nirvana was giving us their own brand of Teen Spirit. Personally I found their sound lying somewhere between Rush and Metallica.
Kerrang! magazine even put the band on the front cover before their debut 'Out Of The Silent Planet' was released, later that year its writer's voted the album number one of the year ,ahead of Queensryche's 'Operation Mindcrime' and rightly so.
I was one of the few who were immediately converted and was lucky enough to witness their legendary debut UK show at the Marquee Club at the tail end of '88 and once more just some eight months later when the band were promoting their second LP 'Gretchen Goes To Nebraska'.
That first Marquee show has gone down in folklore as one of those gigs where you really had to have been there. It has always remained one of the best club gigs I've ever witnessed.
For one reason or another Kings X never became household names, not pretty enough for the glam metal fans and too clean for the oncoming grunge scene, Kings X were just three nice guys who made great music, but that doesn't equate into chart topping sales.
Thanks to those Marquee shows Kings X have always had a love affair with London, two years previously here at the Electric Ballroom in Camden, the band filmed the live DVD 'Live Love London'.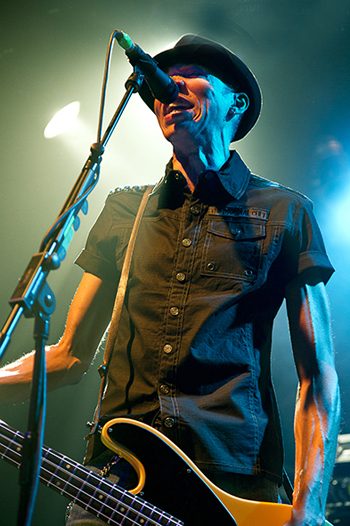 Frontman/bassist Dug Pinnick (He recently buried his Christian name Doug so people can dig his new name Dug.) simply introduced the band to the stage with a 'Helllooo London' as the band launch into a welcoming 'Groove Machine'. Pinnick's Mohican is long gone and has now been replaced by the wearing of a trilby hat.
The band's sound is as solid and dense as it always has been. Pinnick and drummer Jerry Gaskill play in unison providing a heavy backbone whilst guitarist Ty Tabor stabilizes the mood with some fluid enlightenment.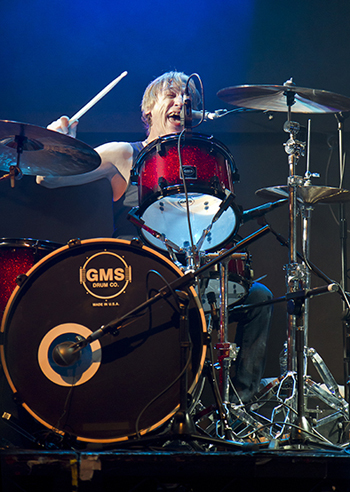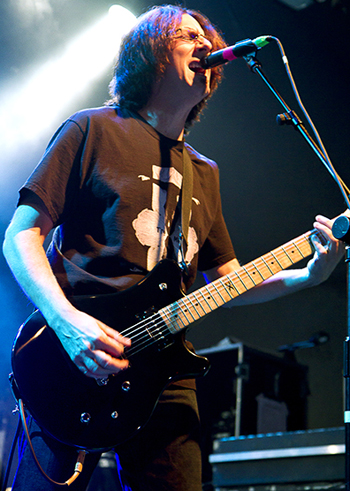 Three tracks are performed from the recent return to form album 'XV' including 'Alright' and the almost funky 'Pray', but their last few albums are ignored and the most recent would be that set opener from 98's 'Tape Head'.
Four songs from the classic debut get an airing but not especially by any means the best tunes from that release.
They do play my favourite the ballad 'Goldilox' as an encore , but it's in stripped down form as to let the faithful crowd sing every word throughout the entire song, followed a rocking gospel feel of 'Over My Head' where the Ballroom becomes a mass choir.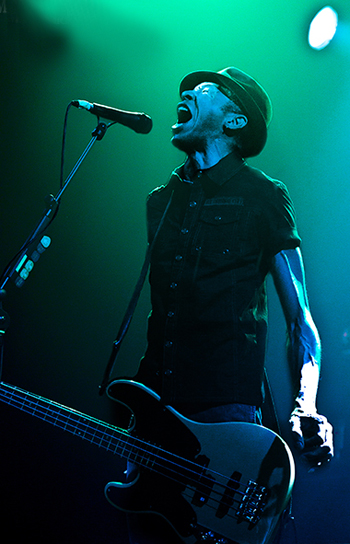 Kings X have carved out a nice niche for themselves who have a loyal following for which the band can do no wrong. One of the best kept secrets in the history of heavy rock. A bit like Marmite, you either love 'em or hate 'em and I love my Marmite. When spread thinly over melted butter on toast, it provides a tasty crunch and that's exactly what I got tonight.
23 years after first seeing Kings X, the band are still making music that is instantly recognizably and uniquely their own. Gladly, some music never changes despite the ever changing fashion trends of the music world. Long live the Kings X.

Set list: Groove Machine / The Train / What Is This / Complain / Black Flag / Alright / In The New Age / Pillow / Pray / Dogman / Go Tell Somebody / Summerland / We Were Born To Be Loved.... encores ....Goldilox / Over My Head / Visions

Review and interview by Mark Taylor
Photos by Michelle Murphy
---