KING KING Take My Hand
Manhaton Records Hatman 2016 (2011)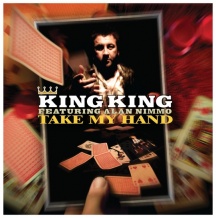 Coming at you like an express train running out of track, Alan Nimmo's King King is simply one of the most explosive rock/blues/funk bands on the planet.
So much for the live show and now for the debut album which involves a slightly more considered approach in trying to establish the band's own musical direction.
Sometimes a new project fails to deliver because the weight of expectation is simply too much. No such worries blight 'Take My Hand'. And though this is not a stellar debut, it's a pretty fine effort with enough exciting moments to fulfil even the most reticent converts.
'Take My Hand' is a major step in the right direction for King King with tautly delivered songs, spirited performances and a balanced choice of songs. The band stretch out over 11 tracks that incorporate Texas influenced blues, a rootsy ballad and several smoking funky workouts before a low key finish on a routine shuffle and a soulful ballad.
King King set out with the primary aim of establishing their own musical direction outside of Alan's on going commitment to the Nimmo Brothers. This of course involves presenting songs that are strong enough to facilitate their long term aim while retaining the frisson of their live show in a studio setting. And on balance 'Take My Hand' achieves these goals. The songs are promising and the band's playing is impeccable while the only question mark surrounds their musical direction, which relies on a mix of the tried, the tested and brand new. The end result is an album that opens explosively before taking us on a wide ranging musical journey that concisely explores the band's talents before gently coming to rest on a soulful outro.
Following on from the impressive sledgehammer funk of their debut 'Broken Heal' EP - the title track of which is reprised here - 'Take My Hand's is an accomplished effort that pushes Alan Nimmo to his potential. His road tested band explores some deep grooves, scintillating solos and thoughtful arrangements.
King King take their point of departure from the late Texas rock blues outfit Storyville, whose trademark muscular and intense grooves are to be found at the heart of this album and particularly so on the opening two tracks. Alan Nimmo produces a top class vocal performance on the opening 'Lose Control' and together with some potent bv's he explores the kind of intensity levels that sets him apart from many of his contemporaries..
The wah wah drenched title track is full of big chord changes, kicking horns, heavy organ and more bv's, all topped by an incendiary guitar break before a very perfunctory ending that actually sounds a beat short. But the sonic intensity of the track and Alan's burning big toned solo on a fine band performance make it easily the best self penned number on the album and probably the reason why it is the title track.
'Don't You Get The Feeling' is another funky outing with a brusque guitar break while John Hiat's 'Feels Like Rain' is a live favourite and nicely builds up a head of steam on the back of a smoking solo. The cover of the Clapton/Cray penned 'Old Love' turns out to be a surprisingly inspired choice full of delicate dynamics and a stop-time arrangement with gospel bv's. Alan's Clapton meets Knopfler style tonal explorations perfectly embellish the piece as the band push the groove and build the tension leaving Alan to take the piece home with a searing solo. 'Old Love' strikes the perfect balance between a cutting edge tour band and the studio possibilities and is arguable the best example of what they are trying to achieve.
The undulating funk of 'Heart Without a Soul', is almost as impressive, albeit it borrows heavily from Stretch's 'Why Did You Do It', while 'All Your Life' evokes the dance floor funk of Stevie Wonder.
'I'll Fight My Way' is another tension builder with heavier feel, crashing chords and another excellent lead vocal from Alan before he leans into a trademark powerful solo.
The album is co-produced by Alan, his bass playing, song-writing partner Lindsay Coulson and Artic Monkeys/Editors producer Ewan Davies, and the result is a good balance between the album's blues sensibilities and a contemporary feel.
Giles King joins the fray on Wolf's 'Mr Highway Man' which doesn't emulate The Red Devils version and frankly sounds like a late addition, while Alan finishes with Toussaint McCall's one hit wonder, Nothing Takes the Place of You'.
It's a surprising finish to a high energy album. From having spent the most part of the CD establishing their own coherent signature sound, the last two tracks sound just a tad too much like trying to be all things to all people. The result is a rather pedestrian shuffle and a soul ballad that while being well sung and arranged fails engage us emotionally. Far better to have gone for a live bonus track to show just how far this excellent band have come from their live rip roaring roadhouse blues to a debut album that suggest there's so much more good stuff to come.
****
Review by Pete Feenstra
---