Just witnessed your best live gig?.. send us a review!

Interview by Pete Feenstra, 07.11.11

Camera: Eric Harvey
© 2011 Pete Feenstra/GRTR! All Rights Reserved.

KENNY WAYNE SHEPHERD, London Koko
7 November 2011

Photos by Maggie Rogers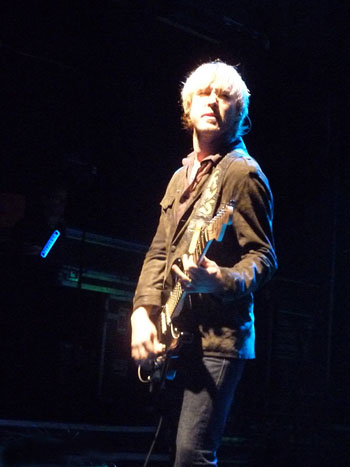 They say absence makes the heart grow fonder and on the evidence of a packed Koko crowd, plenty of people have missed Kenny Wayne Shepherd since he last hit these shores in the mid 90's.
In the interim he's grown up, become a dad and carved out a stop-start recording career that has seen him established as a rock/blues guitar protégé, then reborn again as a bona fide rock star, before a glance over his shoulder at his blues roots on '10 Days Out', a blues documentary, highlights of which were meant to open tonight's show but for a malfunction with house equipment.

Unperturbed, the band hit the stage with fiery intent powering their way through 4 segued tracks from the new 'How I Go' album before revisiting selected parts of the Kenny's back catalogue including the enduring groove of 'Deja Voodoo' (from 'Ledbetter Heights') and the Hendrix inflected melody line of 'While We Cry'.
But curiously with so much to fall back on there was nothing from his rock album 'The Place You're In' or indeed the blues album '10 Days Out'

You felt tonight was all about Kenny reclaiming his rock-blues guitar crown and over the course of a pulsating 90 minute set he did exactly that.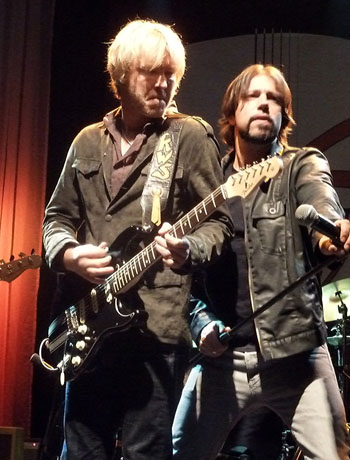 But while KWS provided the scintillating chops and his long time vocalist Noah Hunt added a rich baritone to some solid material, the band had to work hard to achieve a musical triumph over a lack of charisma.
There's always something of a dilemma when a guitarist isn't the natural lead vocalist in the band and Kenny was smart enough to add harmonies and occasionally duet with his partner. But with Noah cutting a fairly static figure not given to on stage histrionics, it was left to Kenny to occasionally step out to the front of the stage and deliver some blistering runs.
For his part, Noah busied himself with a succession of rock vocalist poses, meaningful shapes and an occasional use of a Robert Plant style, diagonally held mic stand, none of which compensated for the apparent unbridgeable gap between thrilling music and a lack of intuitive stage presence.
But armed with a fine new album and a band that included the pivotal figures of Tony Franklin on bass (The Firm) and Chris Layton on drums (Double Trouble), the gig exploded from the start with the riff driven pile driver 'Never Looking Back' and the heavy duty shuffle 'Butterfly', before a rather pedestrian 'Nevermind' from the 'Live On' album.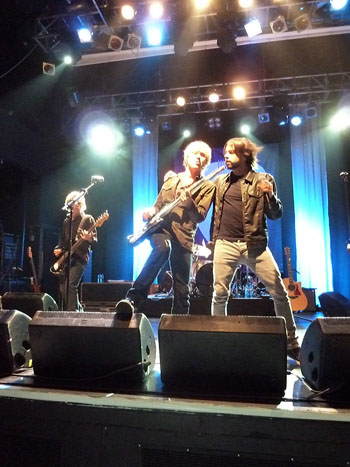 It was a fleeting lull in the set as Kenny cranked things up on a cover of The Beatles 'Yer Blues' and then offered the subtly contrasting early career groove of 'Deja Hoodoo'.
Of the newer material, 'Come On Over' was a vocal tour de force, with a lovely stop-time phrase and a delayed 'she says' lyrical line that gave the catchy chorus its sharp dynamic.
And as if to balance the set the band slipped into a slow blues 'Shame Shame Shame' on which Noel phrased eloquently and Kenny's solo was as close to a musical conversation as you will ever get. Kenny also referenced his blues heroes on the intro of the song and leant into some Stevie Ray style licks.
And as if to show that he's learnt every facet of his hero's playing he added some blistering rhythm on the rather mundane choice of 'Let The Good Time Roll', a cover that in fairness he transformed into something special. And that indeed was a fair summation of the evening.
You occasionally wondered about the choice of material from the boogie metal version of Peter Green's 'Oh Well' to the belated rocky version of 'King Bee' but each time the band pulled it off.

The rapturously received encore also included the hit 'Blue On Black' on which Noah evoked Paul Rogers and Bad Company. And on an evening when KWS had been all things to all people, he climaxed an exuberating show with a double helping of Hendrix's 'Voodoo Child', including 'Slight Return' on a hotly anticipated but intensely played finale to the perfect come back show.
Review by Pete Feenstra
Photos by Maggie Rogers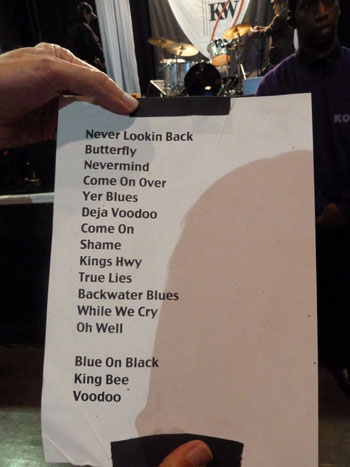 ---