KEITH EMERSON BAND Moscow 2-CD earMUSIC (2011)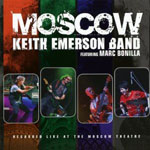 Recorded in 2008, this is a great live album from the ELP / Nice pianist Keith Emerson.
A full band, including guitarist / vocalist Marc Bonilla (who sounds uncannily like Greg Lake at times), the sound is very full, sometimes too full, especially as the recording distorts at times.
Mixing solo and Emerson Lake & Palmer material, the show kicks off with 'Karn Evil 9', which although comes over well does sound different with the guitar taking the lead. 'Piano Concerto 3rd movement' is really thrashed out, it's a workout for the entire band.
'Bitches Crystal' is quite a heavy number, plenty of hard piano runs. 'Malambo' follows, and 'Touch And Go' has an extended keyboard intro. This song always is warmly welcomed, but is far from the best song from that album.
'Lucky Man', 'Miles Away', 'Crusaders Cross', 'Fugue' and 'Marche Train' complete the main set.
Disc two features the 3 best tracks of the set. First off there's 'The Barbarian', then 'Tarkus' which runs to 35 minutes, and the classic 'Nutrocker Suite', with a blistering guitar solo. The album is worth getting for these 3 tracks alone.
Many of the arrangements are different (in places very), often with bars of other things inserted. Keith does get to show off his classical and jazz influences. And apart from the heaviness which occasionally affects the recording quality, it's an excellent life album. Some chat between songs would be welcome though.
****
Review by Joe Geesin
---
| | |
| --- | --- |
| | Print this page in printer-friendly format |
| | Tell a friend about this page |