Just witnessed your best live gig?.. send us a review!
KEEL, Camden Underworld, London
26 September 2011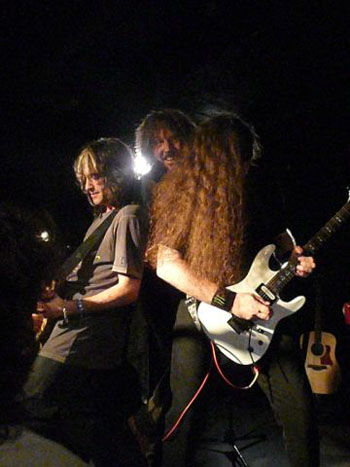 Keel were one of the many North American hard rock hopefuls, along with Y and T, Helix and Black and Blue who emerged in the early to mid eighties, just before the whole scene went stratospheric, with a brash image and a sound that was metallic but had the crisp sheen you would expect from our transatlantic cousins.
I still remember them going down a storm when they supported Dio at Hammersmith in 1986, but they split up a few years later, seemingly forgotten about until singer Ron Keel played an acoustic support to Y and T in 2009, then the band reunited to record a new album Streets of Rock n Roll.
Sadly there is no getting away from the fact their first UK show in 25 years, admittedly on a Monday night and not well promoted, was poorly attended with probably only around 60 or 70 people there. But with the diehards easily all accommodated in the front few rows, I sensed this would be a fun gig provided you didn't turn round to look at the yards of empty floor.
When they came on stage, opening with new song Come Hell Or High Water, it was as if time had stood still since 1986 as the band, with four out of five original members, all flailing hair and traditional, foot on the monitor metal poses (even if Ron Keel's 'country' tattoo on his forearm betrayed his venture into that genre with Iron Horse).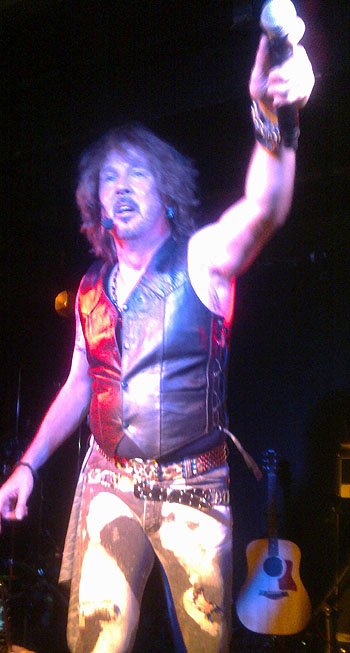 Always a good frontman, Ron sounds better for reigning in some of his vocal excesses of old, and promised that he would keep chat to a minimum so they could squeeze as many songs as possible into their allotted 90 minutes.
So we got Somebody's Waiting, from 1987's self-titled album, with a big chorus that deserved to have been a hit single, and a more metallic double from their major label debut, in Electric Love and Speed Demon.
Mark Ferrari and Bryan Jay were a well matched duo, regularly swapping lead guitar solos in a very similar style while the likes of new song Push and Pull and I Said The Wrong Thing To The Right Girl were punchy if not too challenging slices of American hard rock.
In contrast, the ballad from the new album Does Anybody Believe had a melody uncannily close to Bon Jovi. Perhaps not the best songwriters, their set relied on a few covers, whether ones they had previously recorded- Lets Spend the Night Together and Because the Night which many people had been shouting for- or a surprise version of Rose Tattoo's Rock and Roll Outlaw.
Ron also raided his old band Sinner for Cold Day In Hell, but the highlights for me came late on with the great power ballad Tears of Fire, given extra feeling by a great twin guitar break from Marc and Bryan, then party anthem The Right To Rock, where Ron bravely tried the old audience participation trick of getting left side to compete against right and the resulting noise was most impressive for the low numbers there.
There was still time to squeeze in two encores, another fist in the air-style anthem of United Nations, and the rapid fire, almost speed metal, You're The Victim (I'm the Crime).
Keel may not be in the premier league of great bands, but this was one of the most enjoyable, unashamedly old school gigs in a long while, made more so by the way these troupers gave it everything despite the small crowd, and willingly stayed afterwards to chat with fans. I hope it has whetted their appetite to return and on this evidence they would surprise and delight a wider audience at somewhere like Firefest.



Review by Andy Nathan
Photos by Kiley Spencer and Nicola Dexter
---