KARL DEMATA BAND Cross The Mountain Green Lizard Records GRLIZ001 (2011)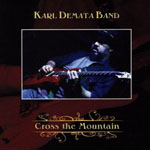 They say you can judge a top guitarist by his own signature tone. Well, on the evidence of Karl Demata Band's 'Cross The Mountain' he is a guitarist of many parts whose adventurous musical spirit allows him to breathe fresh life into southern rock.
'Cross The Mountain' is the kind of guitar driven album that explores the full remit of Karl's playing abilities, from his subtle use of touch, tone and feel to the more brusque elements of a well honed power trio. Karl fills his canvas with an array of ever changing tonal colours and subtly crafted dynamics, shaped by contrasting solos which sometimes appear in the same song.
The Anglo Italian guitarist's mix of slow burning workouts, weighty slide runs and fluent cascading solos are the familiar trademarks of Southern bands such as Lynyrd Skynyrd and The Allman Brothers, but Karl conjures up his own gumbo on 11 tracks that flow eloquently on the back of some stellar guitar work sprinkled with a hint of psychedelia. He's a limited vocalist who uses his gritty vocal style sparingly enough to place the emphasis on both grooves and some atmospheric solo bursts. This is particularly so on 'Failing Design' as his tremulous notes rise above the song's insistent hypnotic drone.
The album's southern rock feel ranges from tough work outs to contrasting smouldering rock ballads which always manage to avoid any suggestion of torpor simply because of his imaginative guitar playing. This is never more so than on the glorious title track which features guest Hughie Flint on percussion. Karl works up a lovely eastern sounding drone and punctuates an ethereal vibe with bursts of rich sounding slide and lashing of echo reverb. It's the defining cut on the album and well worthy of its status as the track title and will surely find its way onto rock radio play lists.
The album opens with the boogie riffed 'Barefoot Walking Blues' on which Karl sets out his owns high standards of guitar playing with a fluid solo. He opts for a more mellifluous feel on the following rock ballad 'Until The End'. And as if to emphasize his wide ranging musical palate, there's a country tinged rootsy feel to the Mark Knopfler influenced 'Never Come Around'. It is also a song on which the accompanying guitar tones are as important as the solo itself.
The strength of this album lies in Karl's ability to stretch his songs with a variety of solos that avoid cliché, never repeat themselves and explore a range of tone colours that enable him to get the best out of competent if not inspired material. He's only a few songs short of cutting a great album rather than a promising one, as the sizzling solos and burning grooves mark him out as a guitar player of note. And if the southern rock feel of 'Cross The Mountain' doesn't quite have the kind of memorable songs that made Skynyrd, Marshall Tucker and The Allman Brothers top draw, then Karl's combination of lingering melodies, steely riffs and lashing of slide do at least lever you into an essential retro tinged musical flashback.
There's also crucial duality at play on this album as evidenced by the fact that the dynamics found within the songs also shape the album as a whole. And so it is that 'Cross The Mountain' builds up its momentum on the back of an impressive trio of songs, starting with the tough Skynyrd influenced staccato rhythm of 'Hard To Find' - all heavy organ chords and wah wah tinged stinging guitar lines - and the riff driven, slow burning southern rock ballad 'The Day You Put Me Down' which reaches for the epic but settles for the mesmerising.
Then there's also the tightly wrapped funky feel of 'Looking Through You' which is an exercise in concise playing as the muscular rhythm section of bass player Chris Heilmann and drummer Merijn Royaards push Karl all the way. Karl also lets his guitar do the talking on 'Blind Willy McTell' transposing the only cover on the album from a song that exposes his vocal limitations to a triumph of a weeping solo over more heavy weight organ backing.
'Cross The Mountain' finishes with a combination of acoustic/electric guitar and a Dave Gilmour style motif, which thinking about it is a worthy comparison on an album that is a guitar tour de force.
****
Review by Pete Feenstra
---
| | |
| --- | --- |
| | Print this page in printer-friendly format |
| | |