JT & THE CLOUDS Caledonia Dishrag Records (2011)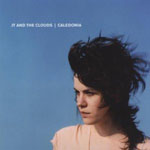 Sometimes you stumble across an album that completely takes you by surprise. 'Caledonia' by JT And The Clouds is such an album. 'Caledonia' starts off in one particular direction and suckers you in to believing you've got things covered. And then just when you've made up your mind, the songs take you on an unexpected and at times bewildering, but hugely enjoyable journey that defies easy categorisation. In the case of the opening 'Fever Dream' for example, the startling changes all happen in one song, as a low key intro with pleasant voices is quickly ripped asunder by a lead vocal that rips the hell out of the tune.
JT and his gang may hail from Chicago but this is band that thinks nothing of launching themselves into white boy soul, gospel, and even Caribbean influences. The latter is to be particularly found on 'Funeral' and the percussive rhythmic feel of 'Grow Your Flowers', on which the band build up a lovely head of steam in a poppy context..
And if JT and the Clouds were ever to be criminally be classed as a mere indie band simply because they push the stylistic boundaries, then that would be too miss the whole point of a project that pursues any given direction that their intense vocalist Jeremy JT Lindsay decides to explore. The interesting subject matter, clever half-rhymes allied to dazzling harmonies, intricate keyboard lines and deftly arranged horns topped by short burning solo's, all make for a vibrant album bursting with red raw passion.
But the tumble dryer affect of chucking everything in the same tub doesn't necessarily lead to a coherent finish. But JT continually digs deep with his raspy soulful voice to drive the songs home with unbelievable energy and commitment.
On the beautiful soulful love song 'I Have Heard Words', he makes the most of a slow burning ballad over some potent keyboard notes and more horns to deliver something like one of those classic old northern soul records. As he sings 'Come on come on come on rock with me baby, slow down your heart break, feel the earth turning slow, we can stay like this a while you know', he almost signals the band to take the song up to another level, emoting and phrasing like one of the great soul singers of yore.
Much like the album as a whole, JT starts a song innocuously and then get immersed in the moment, wringing every last bit of meaning and passion from the song. But it turns out to be just one aspect of a band that creates its music with broad brush strokes.
They immediately slip into 'Playing Dozens' complete with a choral intro as JT explores his startling falsetto range over some earthy bv's, before an unexpected west coast sounding dreamy guitar break.
But there are yet more surprising twists and turns from a band who clearly eschew the formulaic production approach. They immediately head into a gospel call and response intro and add some rhythmically repeated lyrics on the impressive 'How it Runs'.
And so to the title track with its potent chord changes ,which is the nearest the band get to a rock ballad before slipping into 'The Wolf' a contemporary splash of passion on which JT emotes in the manner of one of those Arcade Fire songs that sweeps over you like a tidal wave.
'Caledonia' demands repeated listening if only because of the lush layers of instrumentation, the clever lyrics and the undeniable soulful feel that makes this such a great album.
Open your ears, throw out the clutter, banish your musical prejudices and enjoy JT and the Clouds. Chicago music never sounded so new, exciting and for that matter danceable.
*****
Review by Pete Feenstra
---
| | |
| --- | --- |
| | Print this page in printer-friendly format |
| | |