JONSI Go Live EMI (2011)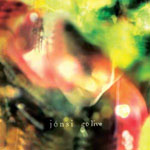 One of the first things that hits you about this CD/DVD is the lavish coffee table packaging - a beautiful CD sized hardback book that encases the discs and a 16 page booklet featuring pictures taken by the band on their 4 continent tour.
The second, is 'who the hell is Jónsi? Well, he's no relation of Banksi, and those in the know will be well aware that he's no other than Jón 'Jónsi' Pór Birgisson, perhaps more notorious as the cello bow playing guitarist and singer from Icelandic superstars Sigur Rós.
Having put Sigur Rós on hold, Jónsi hasn't been loafing about in 2010. His debut solo album Go was released in April, reaching the lower reaches of the UK album and Billboard tops 30s. No mean achievement for a solo effort from a member of a band who, although having a huge cult following, could hardly be regarded as mainstream.
A limited edition box set Go Quiet followed, adding a film featuring all 9 album tracks performed acoustically in Reykjavik. The perfect companion has now arrived - Go Live.
And in that respect, it does what it says on the can. With both CD and DVD running out at about 75 minutes, the CD takes in the complete live set (in the correct order of play) including 5 previously unreleased songs, captured mainly in Belgium in May 10. And in a really neat twist, the DVD captures the final dress rehearsal for the tour in front of an invited audience in London. Naturally, there's 'extras' including candid behind the scene footage from the road.
For anyone who's already indulged in and enjoyed Go / Go Quiet, Go Live is a 'must have'. For the uninitiated, Sigur Rós isn't a million miles wide of the mark as a reference point and if your musical preferences include falsetto vocals, ambient folk - at times almost hymnal, and soundscapes that would do justice to the Northern Lights, then look no further.
As beautiful as Bjork, but without the madness. Available direct from www.jonsi.com.
****
Review by Pete Whalley
---
| | |
| --- | --- |
| | Print this page in printer-friendly format |
| | |