Just witnessed your best live gig?.. send us a review!
JOE BONAMASSA, Hammersmith Apollo, London
21 October 2011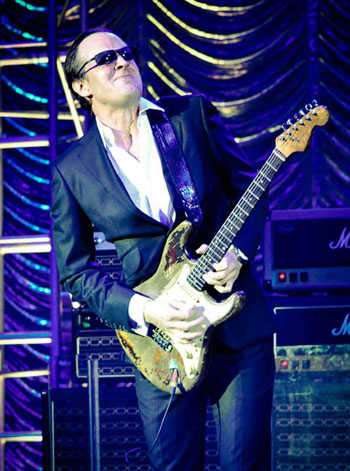 In many respects Joe Bonamassa had already done the hard work and meticulous pre-prep prior to his triumphant appearance at the Hammersmith Apollo.
After all he'd already managed to shift enough tickets to warrant a two day residency at the esteemed Apollo and in doing so has taken the next step up the career ladder.
Last night was part of a significant step into arena level popularity, with two nights at Hammersmith being the best London offers you, save for a quantum leap into much bigger venues.
Then there's the small matter of his parallel career with Black Country Communion, which is equally relevant in terms of garnering a similar up swell in popularity with hard rock fans.
Tonight's show suggested that simply in terms of volume, effortless shredding and the presence of larger than life powerhouse drummer Tal Bergman, he's aiming for a significant slice of that market too.
Throw in his current critically acclaimed 'Dust Bowl' solo album and you have an artist whose crossover appeal to a wide range of rock fans is being realised exponentially.
And in sharp contrast to his dressed down demeanour with BCC he reverted to his Albert Hall mode of sharp suit, white shirt and made the most of the sizeable space with darting movements to the lip of the stage while cutting occasional rock star poses at the conclusion of both solos and songs.

In short, Joe is every bit the new guitar hero for a generation of fans of a certain age. And while Heavy Metal provides the chops and visceral excitement for a younger generation, Joe pushes the retro button cleverly by reshaping rock-blues in his own post Zeppelin image.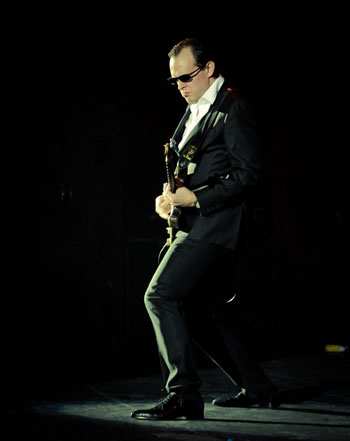 He also makes the most of some innovative arrangements of long forgotten songs such as 'Sloe Gin', which was once again a show stopper tonight.
But he's never too far away from his late 60's and early 70's calling as evidenced by a very heavy version of Mose Allison's 'Young Man Blues' (refracted via The Who version of course), and tonight's opener The Cradle, played on the late Rory's Strat no less. He slipped into some train-time rhythm on the self penned 'When the Fire Hits the Sea' and soared on the late Gary Moore's 'Midnight Blues'.

So far so good. But the crucial thing in terms of pushing the whole night forward to its pyrrhic conclusion was a combination of the ebbs and flows of the set and the substance of Joe's own songs which mark him out as special.
And in that respect 'Dust Bowl' was a highlight, being a sumptuous groove with Floydian overtones on the guitar intro, a husky vocal and an irresistible ascending chorus.
Then there was 'John Henry', a re-sculpted piece of American folklore that became of age at last summer's High Voltage Festival and was announced by Joe as the closest he's got to a hit.
'Lonesome Road Blues' with its familiar riff was heavied up with the presence of thunder sticks Bergman, while 'Steal Your Heart Away' was less palatable being spiky and angular.
'Song of Yesteryear' was far better and though ostensibly written for BCC was reclaimed as one of Joe's most poignant and elegant songs.
And in a set that nuanced every aspect of Joe's oeuvre there was room for a belated acoustic guitar interlude on which his combination of speed, technique, concentration and all round spine tingling virtuosity fully justified the tension breaking roar from the crowd.
It was in that one concluding breathtaking moment that Joe reaffirmed his position as one of the finest musicians of his generation.
Setlist: Cradle Rock/ When The Fire Hits The Sea/ Midnight Blues/ Slow Train/ Dust Bowl/ You Better Watch Yourself/ Sloe Gin/ John Henry/ Lonesome Road Blues/ Happier Times/ Steal Your Heart Away/ Song of Yesterday/ Young Mans Blues/ Woke Up Dreaming/ Mountain Time/ Encores: Bird On A Wire/ Just Got Paid


Review by Pete Feenstra
Photos by Jerry Tremaine
---