JOAN AS POLICE WOMAN The Deep Field Play It Again Sam (2011)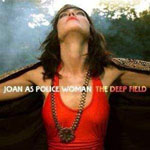 Other wise known as singer songwriter / violinist / pianist and guitarist Joan Wassener, Joan As Police Woman is what might be described as an 'alternative / indie' artist.
And while she's previously been found in the more 'left field' realms occupied by the likes of Bjork and Polly Jean Harvey, The Magic - a soothing soulful groove and the first single to be lifted from her third album The Deep Field - hinted that she may be edging towards more mainstream territory.
But The Deep Field quickly dispels that notion, instead building on the quirkiness of her first two releases Real Life (2006) and To Survive (2008). It's a hadron kaleidoscope size meeting of rock, soul and singer songwriter sensibilities. The result is an angular mass of tangents ricocheting in unpredictable directions, and while Joan wants you to fall in love with her, she's doesn't make it easy.
There's something intoxicating, sensual and inviting about her, but the unexpected twists, turns and rhythms mean she often remains just out of reach. It's a bit like being invited to her boudoir, only to find her in a police woman uniform and brandishing a truncheon and handcuffs. Even for seasoned reviewers, that can be unsettling.
What that means is that The Deep Field is likely to delight fans, but I would question whether it's going to significantly expand her appeal. No question it's her best album yet and, as always, she's an intriguing listen.
***
Review by Pete Whalley
---
| | |
| --- | --- |
| | Print this page in printer-friendly format |
| | |