Just witnessed your best live gig?.. send us a review!
STEWART MAC/Silverbox/Jimmy Stapley
The Clapham Grand, London 23 September 2011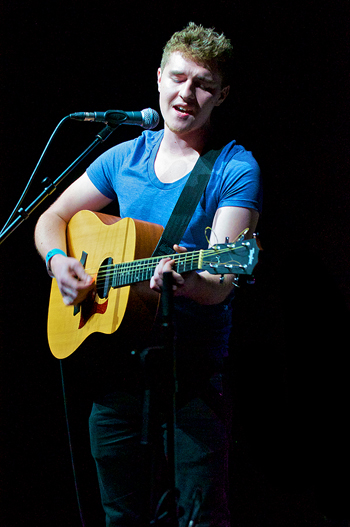 The doors opened at spot on 7.30pm and only two people were in the queue ahead of me... behind me there were none. Oh dear, I hoped this wasn't going to be one of those nights when bands worthy of seeing were going to play to an empty room.

By eight a few more people had wandered into this fine old venue in time for the first act of the night, an acoustic set from Jimmy Sharp. I'd previously seen him, with a full band, at the Indigo2 in July so I was intrigued to see what he would be like on his own.
As then, his brand of folksy pop failed to capture the audience, with most of his songs drowned out by the chattering of the 20 or so people in the venue, the exception being a four strong " fan club" near the front of the stage who gave him as much vocal support as they could manage.
The set consisted mainly of his own songs with a few covers thrown in for good measure, but his so-so performance was undeserving of a 10 song set. Truly an over-indulgence on the part of the promoters.

Set List: Island, Everything You Wanted, Blood Tears & Gold (Hurts cover), Can I have Some?, Kids (MGMT cover), Ruby, Drug Group, Dakota (Stereophonics cover), Skinny Love and Face Like Karma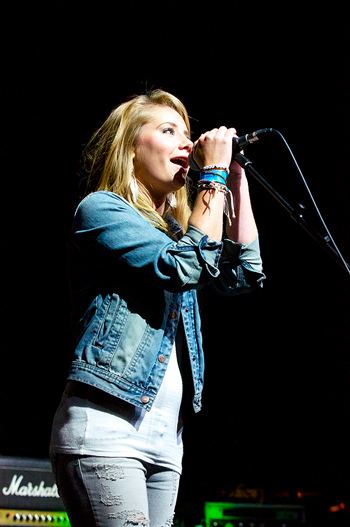 Next up were September Rain, a four piece Indie band from Ipswich who only formed at the beginning of the year. It seems, according to their publicity at least, that they are taking Ipswich by storm and recently won a regional talent contest as well as opening a local music festival.
Decent up and coming bands in Ipswich must be few and far between if this is the best that town can offer. More time needs to be spent rehearsing and a change of vocalist is required if this band is not to sink without trace.
Out of tune and lacking any depth or strength to her voice, the vocalist resorted to shouting some of her lyrics. If you feel this reviewer is being unnecessarily cruel, a quick search of a well known video hosting site will reveal a clip from Friday's show that will expose the band's, and especially her, shortcomings. I even overheard someone say " she sounds like a chain-smoking cat being strangled" That just about summed it up!

Set List: unknown first song, Dirty Little Secret (All American Rejects cover), We're Not There, Sights and Beautiful Monster (Ne-Yo cover)

Whilst the evening had started poorly and then plumbed depths I could hardly have imagined, at least I knew the next act would restore my faith in live music.
Jim Stapley is one of the most talented singer songwriters yet to break into the general public's consciousness.
As well as his own band, Jim has provided vocals and fronted for both Two Faced, a Faces cover band, and Apart From Rod, which comprises the original members of Rod Stewart's backing band after he left The Faces.
But it's with his own material that Jim obviously feels most comfortable with. As a support act, we were treated to a shorter set than usual, but it was nonetheless a pleasant change to hear musicians at the top of their game and a singer whose vocal range and depth of feeling brought music back to life again.
From up-tempo, foot stomping bluesy rock songs like Love is Surrender and My Way Home, to more whimsical and soulful offerings such as See You Next Tuesday, Jim Stapley offers the audience all his heart and soul with a generous topping of raw emotion. It's music that makes the hairs on the back of your neck stand on end.

Set List: Love Is Surrender, Gimme What You Got Tonight, Just Call, See You Next Tuesday, It's All Over, Somewhere and My Way Home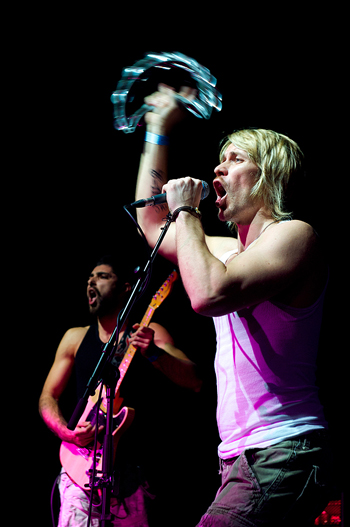 Following on from Jim Stapley and his band were a group that have recently started making waves. Clearly influenced by the likes of Nickleback, Creed, Guns n' Roses and Led Zep, Silverbox are a band to watch out for. Mixing complex melodies with raw, emotional, back rhythms, the twin guitars of Ryan Hunt and Julian Martin-Samos complement the energetic vocals of frontman John Wyse, while Steve Hepburn (Bass) and Keith Button (Drums) power the rhythm section.
Going from dark and dirty blues riffs to almost evangelical, heart rending ballads, this is a band that obviously doesn't wish to be pigeon-holed into any one category of music. That they manage to pull off such a dexterous feat is down to raw talent, which they have in abundance.
That much of the crowd at the Grand were loyal fans of the band no doubt helped the chemistry on stage, but I defy an audience who had never heard them before not to come away without feeling they had just witnessed something special... that's certainly the way I felt.

Set List: Oblivion, Under The Radar, Shinedown, Gravity, Cross We Bare, Femme Fatal and Tortuga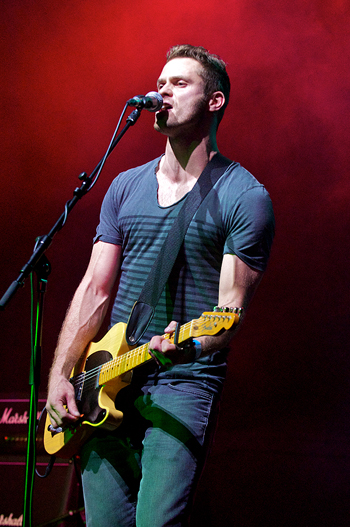 The headline for the evening was Stewart Mac whose new album Little White Lies is due for imminent release. It's unfair to make the obvious comparisons with Don Henley or Tom Petty, because Stewart Mac is oh so much more than that.
His well crafted songs and catchy lyrics will leave you humming his melodies for days after you've heard them. If you like straightforward, unpretentious rock then you really should catch Stewart Mac.
Interspersed with the new songs on offer tonight were old favourites from his 2007 album From Cautious Intent such as California (On My Mind) and Turn This Thing Around.

Set List: California (On My Mind), Misery Loves Company, Everything's OK, Breathe, Moments Like These, Catch You (When You Fall), Paper Heart, Little White Lies and Turn This Thing Around


While the evening had started poorly and then taken a disastrous dip, the final three acts of the night showed what real talent is all about...well crafted songs delivered by consummate professionals.
Maybe next time the promoters will go down the " less is more" route and only book acts that can deliver what they promise. It was a shame, too, that the venue was never more than half full, as Jim Stapley, Silverbox and Stewart Mac deserve a far bigger audience


Review and photos by Bob Singleton
---