JERZEY STREET BAND Wasting Time (2011)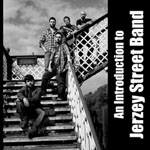 Jerzey St Band are a Brit combo hailing from Oldham who play an expansive roots rock rocks that finds it antecedents in Americana and but offers a potential leap into stadium rock. It's familiar territory with elements of Petty, Springsteen, The Stones, Counting Crows and even the contemporary variant of The Hold Steady, but it's also a derivative style that time that at times the band try too hard to emulate.
On balance they strike a happy medium on a bunch of impressive self penned songs full of with superb vocals, strong melodies and yes damn it an authentic Americana feel. You can probably count the number of British bands band that pay attention to back up harmony vocals and a cutting edge lead vocal, but the Jersey St Band do precisely that. Their songs bristle with a west coast swagger and a recycled familiar feel that you'll either love or at the very least find hard to ignore
Jerzey Street transpose the big vista Americana feel to their native Manchester and the that they mange to pull it off is a testament to both their songs, pristine harmonies and big wall production sound
The opening 'Cold Feet' sets the standard with a ragged guitar sound, glistening 'oohs and aaaahs' backing vocals and Dave Wrobel's Jagger meets Petty lead vocal. As with much of the album the guitar break isn't so much a defining moment of the song as another just another layer in the overall sound.
There's some jangling guitars and a wistful sounding harp on the impressive ballad 'Give The Rivers Back To The Rain' with more delicious part harmony lines and then there's the acoustic back porch feel of 'Wasting Time', which is given an after hours bar room makeover on the accompanying video. The DVD provides the kind of pseudo American cameo that is frankly annoying, and yet the power of the music cuts through any such reservations to make its mark.
'Holley Grove' provides them with a highlight, even if we do have to overlook a rather pretentious pedal steel intro. There's great rasping vocal line, big chord changes and layered bv's on a song with real presence.
They finish with on another Jagger influenced vocal full of jangling guitars and a country tinged sensibilties on a song with wide appeal.
So there you have it, you pay your money and you take your choice. The band's name may be naff, the music may be retro and derivative, but they successfully transpose their Americana to Manchester via 5 songs full of substance, searing melodies and bags of commercial appeal.
****
Review by Pete Feenstra
---
| | |
| --- | --- |
| | Print this page in printer-friendly format |
| | |