JEFF HEALEY BAND Live At Grossman's 1994 Eagle Rock EACD437 (2011)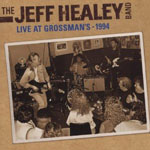 Hard to believe Jeff Healey enjoyed playing trad jazz trumpet as much as blistering rock/blues guitar. But when you consider he was dropped by Arista after his 1995 'Cover to Cover' album (this session was essentially a rehearsal for that CD), you could almost feel he'd run his course as a creative rock/blues act.
His last stab at the mainstream came with 'Get Me Some' and suggested a paucity of coherent material. And it was to be another 8 years before he next cut another Rock/Blues CD - the covers album 'Mess of the Blues' - which I reviewed at the time as 'quite simply a celebration of the joy of playing in a club setting'. And there is more of the same on 'Live at Grossman's -1994' except this CD finds the band at the height of their powers.
The playing is spirited, adventurous, rocking and at times inspired. And Jeff pulls out all the stops in the presence of former Johnny Winter slide player Pat Rush (who he also credits as teaching him guitar). The result is that the JHB make the best job of a bunch of rather obvious cover versions. In fact only 'As The Years Go Passing By' and 'Yer Blues'(also on the 'Live in Montreux' DVD) made it on to the 'Cover to Cover' CD, but that doesn't stop Jeff and his band from jamming as only a hard working tour band can. And I guess that in itself will be enough to make fans purchase this album, as Jeff works up the required intensity with blistering solos and sparkling band interplay. It's the kind of adrenalin rush that could kick start a bush fire even in the most arid terrain
There's a muscular urgency to the opening instrumental 'I'm Going Home' as the band blow away any possible cobwebs and it leads into the tightly wrapped 'Killing Floor' on which drummer Tom Stephens' relentless percussive drive powers the band forwards as Pat Rush's fluid guitar lines segue into Healey's warmer toned note clusters.
Perhaps the best thing about the album is simply the fact that you can feel the band really enjoying themselves outside of the remit of commercial expectation and inside the confines of a home town club.
Things really fly on 'Aint That Just Like A Woman' on which Jeff slips into some mesmerising shredding. And while 'Yer Blues' too readily exposes his limited vocals the playing on the second solo is like a splintered glass frenzy evoking Lennon's original angst ridden performance.
And it's quite simply the way in which Jeff brings fresh feel and energy to a song that makes him unique. He's never hurried, and always seems to play within himself before slipping up a gear and transforming a mundane groove into something essential. You could put him in a room with ten other guitarists including the excellent Pat Rush and he'd still find his own idiosyncratic way of phrasing. On 'Who's Been Talking' his vocals vary from the mellifluous to almost spoken verse, and its left to the dirt sounding harp of Michael Picket and the peerless rhythm section of drummer Stephens and bassist Joe Rockman to carry the song forward to a tension breaking angular guitar solo and a well received finale.
There's almost a whiff of resignation in Jeff's voice as he introduces 'Crossroads' making you wonder why he couldn't cover something a little more exciting, but the familiar blues standard is given fresh life as the band lets rip.
Jeff closes with a brace of Hendrix numbers on which he weaves in and out of the theme, engaging Pat Rush in a duet on 'Voodoo Child' and explores an almost Garcia style jam - plus Clapton's 'Layla' riff - on 'All Along The Watchtower'.
If anything, 'Live At Grossman's - 1994' does suggest a parallel between Jeff's two loves of rock/blues and trad jazz, in as much as the extemporisation on this album is fuel to Healey's fire whatever style or instrument he's playing. Judged solely on the band performance alone, there's enough excitement to satisfy both Jeff Healey fans and guitar freaks alike
****
Review by Pete Feenstra
---
| | |
| --- | --- |
| | Print this page in printer-friendly format |
| | |