JEFF GREEN Jessica Website (2011)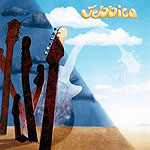 Progman of pedigree, Jeff Green has enlisted like minded musicians to pay tribute to his departed daughter in music and therein lies the difficulty of giving this a non biased review. As a parent myself, while that heart rending theme can't be dismissed, this work is best judged on the basis of its status as a possible purchase for readers.
The album starts promisingly with 'For the Future' with its warm melodic guitar, but I have to say that the early Genesis step rhythm in the latter part left me shrugging.
Better prospects on 'Vision' which features a two guitar interchange acting as an interlude for the epic, 'On this Night' with its distinctive hook line. Apart from his tasty guitar work, Jeff Green is also a groovy man. Layering a song doesn't necessarily mean you remove its soul and character. The meandering 'Essence' and 'Woman with Child' both reminded me of Steve Hackett at his melodic best. Sometimes less is more.
For a self-financed album, the production is remarkable. And I mean this as no cock eyed compliment. Although I would like to hear some of the riffs and bass bits, like on the excellent 'Jessie's Theme,' beefed up a bit so that the strong melodic parts can be appreciated even more
While I liked 'Willing the Clouds Away,' it did strike me more like a jam with a few key changes. Yet the interludes like 'Pride' and 'Vision' allowed songs like 'Tomorrow Never Came' and the funky, 'Pittlewell Chase' to breathe. 'Live Forever' bookends the album nicely with engaging lyrics, a catchy chorus followed by some of Jeff Green's most proficient guitar work.
If you like your prog to stretch your emotional range then 'Jessica' is an album for you.
Jeff Green has appealed for donations to Southend Hospital Maternity Ward to help them to maintain their Bereavement Room.
****
Review by Keith Thompson
Keith Thompson presents Rockwaves on Get Ready to ROCK! Radio, Sunday 21:00 GMT+1
---
| | |
| --- | --- |
| | Print this page in printer-friendly format |
| | Tell a friend about this page |